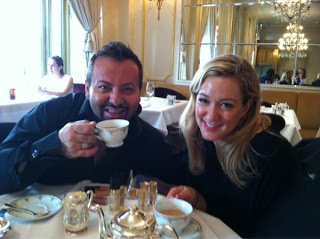 Napoleon and I, enjoying tea.
One of my very favorite beauty brands and people in general Napoleon Perdis, his lovely publicist Danielle and I enjoyed a very civilized elevenses sesh last week at the St. Regis. Amid the business men who were no doubt in the U.S. making deals (damn it feels good to be a ganster), there were Napoleon and I, eating cookies, discussing Australian slang (it's so "povo," meaning poverty to have a breakfast meeting, hence why we opted for tea) and testing out his makeup on my face and all over my hands in the grand salon. When he busted out the  NP Set All That Glitters Duo in Rio De Janeiro ($10), I SCREAMED. Here's the short play in one act:

Amber: WHAT IS THAT?
Napoleon: It's glitter gel! It's really light, you wear it with nothing else on the eyelid and apply a little to the outer corners in an upward direction for lift. Do you want to try it?
Amber: IS THAT A HYPOTHETICAL QUESTION?
NP Set All That Glitters Gel Duo in Rio De Janeiro
And so he applied it and I am HOOKED. Remember in high school when you'd wear a star sticker outside the corner of your eyes before a game (I only played soccer; it was the one sport I wasn't TOTALLY abominable at, although I'm sure the fact that I was on JV all four years indicates otherwise) for solidarity or whatever and the effect was somehow incredibly alluring? Even though you were just sticking a STICKER ON YOUR FACE? It's like that. By itself on the lid paired with a bolder lip, it's subtle, fabulous and flattering. And applying the bronze to the lid and some gold in the outer corner in an upward motion gives you all the sloe-eyed godliness of a Disney heroine.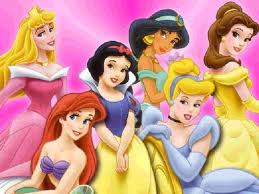 Ariel is my fave.
NP Set boasts a bevy of new palettes for summer, as well. You'll want to toss these two into your purse for all glam emergencies.
NP Set Glam Set
NP Set Red Carpet Set
Both include tones for lips, eyes and cheeks in an easily portable, slim rectangular case. At $24 each, can you afford not to have this on your person the entire summer? I think not.
THEN, we discussed his Napoleon Perdis line's new Nude Bar collection, which is genius. Here, my faves of the bunch.
Napoleon Perdis Off Duty Tinted Moisturizer ($42)
With its double-helix technology, this tinted moisturizer is NOT simply a lighter foundation which hydrates. It yields a sheer, iridescence, thanks to its serum-y consistency and yet provides subtle coverage. It delivers a diaphanous glow, which is always the goal.
Napoleon Perdis Luminous Lip Veil in Caramel Kiss
A smokier eye and a lighter lip for summer is always fresh and sultry. But for me, finding the right nude that won't make me look like I'm dead isn't easy. I'm melanin-challenged and have fair hair, so I use my lips as the sole place of pigment on my face most of the time. Many nudes wash me out, but not Napoleon's luxe gloss in Caramel, my perfect nude shade that makes me feel more Kim K than Helen S of Death Becomes Her. Other new shades include: Cocoa (rich brown), Cafe Au Lait, (coffee) and Pretty in Peach (peach nude).
Napoleon Perdis DeVine Goddess Lipstick ($24)
Named for various Greek goddesses (Iris, Gamelia and Demeter, featured above) these neutral lipsticks are as conditioning as they are pigmented. As Napoleon says, they're "Worthy of worship."
Napoleon Perdis Double Agent Nude Lip Palette ($28)
I've long been a fan of the rouge iteration and this one's fabulous, as well. Housing a cream lipstick and a color-matched mattifying powder, this one's great for creating a major nude mouth moment that lasts all day. You can also use the powder as a blush in a pinch. 
NP Set products are available at target.com; Napoleon Perdis at napoleonperdis.com. Which will you cave on?