Guys, if you're not initiated into the TO-DIE world of Sunday Riley makeup and skin care, you're missing out. From perfectly pigmented, yet diaphanous blushes to the poppy-red lipstick of your dreams to skin care integrating Native American botanicals–the line boasts several items you'll want to buy and rebuy. Especially Sunday's Transformative Lipid Serum she calls Juno. When I first saw the bottle, I thought, oh, I'll make a parallel between this and the movie Juno with Ellen Page, if I deem it worthy of a review (meaning if I love it). Read on…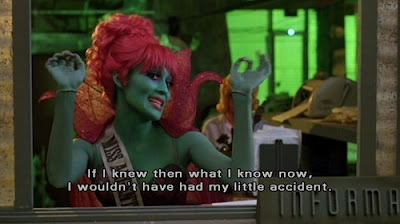 But then I tried it and realized the pop culture reference I HAD to make was the far more obscure Beetlejuice's Juno. You know, "Juno, your case worker," as Miss Argentina (the receptionist) exasperatedly told recently deceased Barbara and Adam.  So get ready to meet Juno, your FACE WORKER.
Barbara and Adam with Juno.
Juno's a bit spendy at $125 per bottle, but a little goes a long way and its texture and glide is phenomenal. Its scent and consistency is curiously (though not intolerably) reminiscent of Italian dressing with a vitamin tinge, as well. I was initially hesitant to try it out on my crazy sensitive, acne-prone skin which has been a NIGHT TERROR of late. I even sent the ingredients list to my skin care sensei Courtney Dunlop, who pronounced it safe to use in the mornings. One to two pumps applied under my trusty 100% Pure Tinted Moisturizer helps balance and hydrate my crazed skin. It yields a glowier, brighter appearance, as well. In short, it's the workhorse of my skin care regimen.
Skin care. As Miss Argentina says, it's all very personal. If I knew then [before], what I know now [about eshewing pore-clogging unnatural products], I wouldn't have had my little accident [AKA the acne situation of 2011.]
I only wish I could say its name three times and it'd show up, but alas, you have to purchase Sunday Riley Juno Transformative Lipid Serum for $125 at Barney's and Bergdorf Goodman.
Like this post? Don't miss another one! Subscribe via my RSS feed.