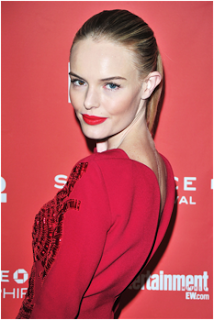 Kate Bosworth looked STUNNING at Sundance–effectively renaming the event (to me, anyway) STUNDANCE. Makeup artist Kelsey Deenihan for Votre Vu created the look for the starlet's press events in Park City, Utah. Here, the deets straight from Kelsey.

"For the premiere of "Black Rock" at the Sundance Film Festival I prepped Kate's face by using a combination of different Votre Vu products to create the perfect canvas ready for the makeup application.
I started off by massaging ATTENTIVE Creme de Jour for Sensitive Skin all over the face and neck. This cream is great because it calms the skin and replenishes moisture – especially in these weather conditions.
To keep the under-eyes moisturized, I lightly smoothed into the skin Tout le Monde Antioxidant Eye Gelee.
Next I applied Votre Vu Sensational Eyes Eye Primer in Medium on lids for a perfect way to keep eye shadow on all day – the perfect base.
To finish prepping the face for makeup I dabbed a drop of the Attentive Serum Delicat Pour Le Visage into the skin and massaged starting at the center of the face and moving outward.
Kate has amazing skin so she really doesn't need a heavy foundation. To set the foundation I dusted on Votre Vu Mineral Powder in Light all over the face.
For the premiere I wanted Kate's makeup to be fresh and natural but with a bold classic red lip. The perfect base for the lipstick is the Votre Vu Champagne Kisses Lip Treatment. I didn't line Kate's lips so the Champagne Kisses pulled double duty by moisturizing and preventing the lipstick from bleeding out."
What do you think, BBJ Nation? Stunning or what?
Like this post? Don't miss another one!
Subscribe
via my RSS feed.