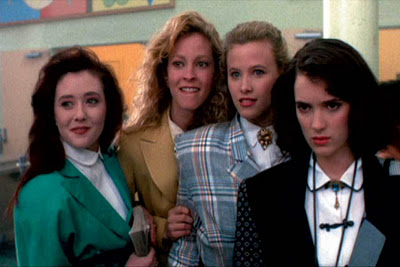 Like you didn't know, Heather McNamara is second in from the left.
Aldo has launched a five-piece fragrance collection called A Is For Aldo that's all about color and personality and it's pretty phenom. I'm a fan of color association vis-a-vis scents, evidently. My first fragrance purchase was actually a Prescriptives yellow one when the brand did a similar color/scent association situation in the early '90s and I first learned I loved a yellow perfume. This holds true today. In my lifestyle, it pretty much always goes that if it's yellow, it's mine. I'm like the Heather McNamara of the post-millennium.  Read on for more deets on the collection…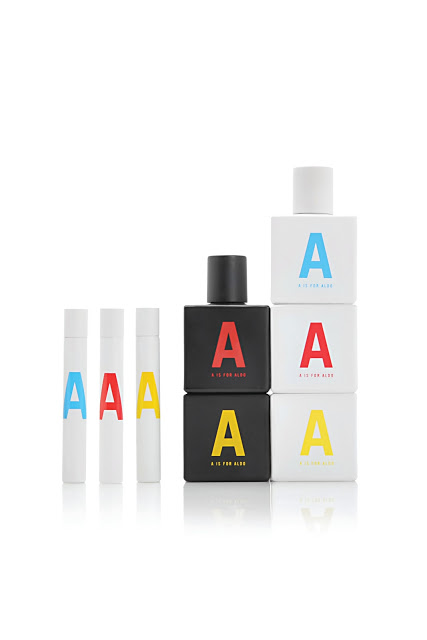 In the very Heathers manner, the collection includes red, yellow and blue for women; red and yellow for men. Powerfully packaged in primaries, each block-shaped bottle is made of high-tech materials that are stackable. Best of all? They're totally affordable at $15 for the 10ml, $35 for the 30ml and $45 for the 75ml bottles.  So let's decide which Heather we are, mmkay?
Blue is, per Aldo, if you could smell like the most popular girl on campus. A Heather Chandler fragrance, though she favored red. The scent begins with a citrus cocktail, infused with freesia and bergamot, settling into a floral heart of heliotrope and jasmine mixed with a hint of magnolia. At the bottom, tonka bean, sandalwood, cocao and vanilla provide depth to this cool scent.
Red is designed for the woman who loves to make a statement. I'd say this one is Veronica Sawyer, though it's obviously Heather Chandler's (RIP, Heather) color. INTERESTING how Veronica "replaces" Heather Chandler in the movie (much as Cady Herron did Regina George in Heathers redux Mean Girls) AND HERE IN HER A IS FOR ALDO SCENT. The symbolism is undeniable, right, lit majors? This one's a combo of lush floral notes, warm with vanilla, sandalwood and musk at the base, with top notes of mandarin and peach for a bold olfactory moment tempered with sweetness.
Yellow is totally Shannen Doherty's Heather Duke–more subtle, but with a biting tart note that is unveiled under an aura of sweetness. It's inspired by the summertime flowers of gardens the Italian riviera. Delightful! It's a melange of grapefruit zest and mandarin infused with neroli blossom. Deeper down, orange blossom, honeysuckle and jasmine commingle. On the skin, warm notes of amber, sandalwood, cedarwood and musk temper the sweet for a hint of sexy. According to Aldo, it's for girls who will be girls forever. I'll just go ahead and check that box. Yellow's my fave of the bunch.
All three women's scents come in rollerball versions, for convenience.
Let's discuss men's! Yellow is for the casually sporty man–a guy's guy. Bursts of ginger, citrus and cardamom notes play with mango at the top, followed up by zingy pepper and jasmine. Aqua marine keeps the citrus fresh and in the distance.
Red for him recalls a drive around the French riviera during the era of Steve McQueen. It's a mix of citrus leading into a cedarwood and tobacco leaf moment. This is followed by a mysterious blend of tonka bean, vanilla, musk and a little patchouli. Distilled spices–cardamom, anise and pimento yield a rich masculine scent.
So which one's your scent, loves? Because not to take part in these aromas in varying hues would be CHAOTIC. And chaos was what killed the dinosaurs, darling. So what's your damage, Heather? If you don't like it, you can transfer to Washington. Transfer to Jefferson.
The A is for Aldo collection is available now at aisforaldo.com.