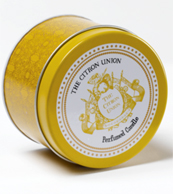 Sean O'Mara's latest Royal Apothic Societies of Scent collection includes beautifully packaged confections boast a slightly snotty, bureaucratic vibe that draws on his English upbringing but combines a uniquely Los Angeles whimsical lightness. His made-up exclusive societies inspired by English social clubs in the Victorian age come with very formal monikers. Put on your ascot and walk with me through the fragrances–each comes in a eau de parfum, rich hand creme, luxury soap and travel candle, respectively. The hand creme is especially lush and perfectly sized for on-the-go application from your purse. Read on for a run-down of the Societies of Scent fragrance deets and a review of some more of my favorite Royal Apothic items (shit's about to get very formal)…
Association of Leisurely Pursuits Top Notes: Bergamot, Coriander, Orange. Middle Notes: Rose, Curry, Heliotrope. Base Notes: White Musk, Patchouli.


Astor Park Millenry Top Notes: Lime, Pear, Mandarin. Middle Notes, Neroli, Jasmine, Lily.


Brighton Librarians' League Top Notes: Tangerine, Pink Graperfruit. Middle Notes: Gardenia, Pepper, Pear. Base Notes: Teak Wood, White Musk.


Chelsea Garden Club Top Notes: Ozone, Geranium, Lemon. Middle Notes: Cyclamen, Ylang Ylang, Rose. Base Notes: Oak Moss, Amber Vanilla


Park Lane Horticulturists' Society Top Notes: Clementine, Peach, Marine. Middle Notes: Gardenia, Hydrangea, Raspberry. Base Notes: Musky Vanilla, Sandalwood.
St. John's Court of Croquet Top Notes: Orange, Cyclamen, Melon. Middle Notes: Violet, Lily, Honey. Base Notes: Tonka Bean, White Musk, Cinnamon.


Thames Yachting Club Top Notes: Lemon, Orange, Melon. Middle Notes: Rose, Lily, Jasmine. Base Notes: Woody Mimosa.


The Citron Union Top Notes: Sweet Orange, Meyer Lemon. Middle Notes: Jasmine, Neroli, Lemongrass. Base Notes: Dry Rose, Sweet Balsalmic.
Other Royal Apothic gems I'm hoarding like a wartime crazy person: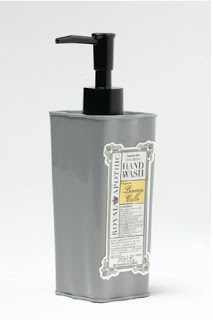 Royal Apothic Hand Wash in Lemoncello ($24)
I love lemon products for the kitchen. I keep a bottle of this along with Royal Apothic's corresponding hand cream at my kitchen sink. The packaging is so divine, I swear just having it on my counter makes me feel as if I've entered another tax bracket.
Royal Apothic Citron Union Travel Candle ($16)
I keep the citrus theme going in my kitchen by keeping this bright, crisp candle there, too. I burn it to rid the room of cooking smells. It's the wax equivalent of lemon sorbet–it cleanses the scent palate beautifully. Pictured above in all its Victorian glory.
Royal Apothic Extract of: Poppy ($16)  is a little test tube of delicate delight. The roll-on applicator is compact, but doesn't skimp on glamour with its proper glass packaging. I keep one in my purse for touch-ups. I feel like this nauseating heat is desperately robbing me of my fragrance before I'm ready to part with it, so frequent reapps are necessary.
Royal Apothic Body Wash in City Of Angels ($16) I've talked about my near-irrational obsesh with this scent before. But now that it's offered at your local Anthropologie, it bears repeating. This body wash is the perfect mix of light floral, eucalyptus, jasmine and an ozone note for a HINT of smog.
I'm ONLY into indie fragrance brands these days–two other faves of mine are Mor and Tokyomilk. Maybe it's my raised-in-a-non-sugar-household upbringing, but to me, they're ALWAYS less saccharine and cloying than their mass-produced competitors. What say you? Have you tested out Royal Apothic? Tell all in the comments.
Like this post? Don't miss another one! Subscribe via my RSS feed.