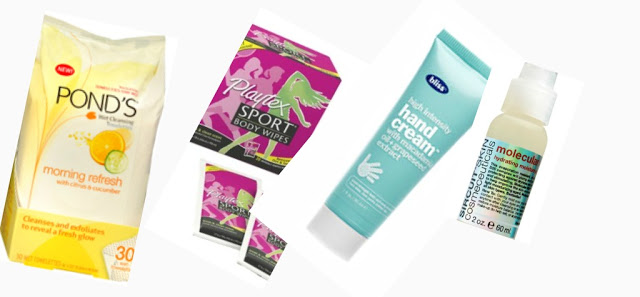 So, the flight to Tahiti is ELEVEN hours in total (not counting our LA layover, or LAyover, as I've been referring to it in my head). It's unlikely that I'll arrive bright and impossibly fresh after such a long time cooped up on a plane, but I'll be trying my hardest. I've found that the key to cross-world flights are TOWELETTES, and lots of them. My travel bag includes a wide variety of those, and some other gems I'll need to keep me calm, satiated and rested on my flight. Read on for the full run-down…
Pond's Morning Refresh Towelettes ($5) A brand that's been around since 1846, Ponds is famous for their Cold Cream. Their new wipes are a pretty phenom alternative–packed with cucumber and citrus, these exfoliating wipes are perfect for freshening up my face mid-flight or to take off my makeup before I go to sleep. By the by, it's impossible for me to sleep anywhere other than a bed, so I got myself some glAmbien for THIS journey.
Playtex Sport Body Wipes ($16 for a set of 5 packs) These smell great and are ideal for a quick wipe-down in the privacy of the LAX bathroom during my LAyover in lieu of a shower.
LA Fresh Deodorant Wipes ($4.50 for a 6-pack) It's genius to carry a couple of these on you for those oops-I-can't-believe-I-forgot-deo days, but extra-brill for super-lengthy flights.
The blanket that comes with my Stella McCartney for LeSportsac (no longer available, but here's one on eBay) It's super-cozy and portable. Pair with my Little Honey Eye Mask and poof: insta-bedroom.
Bliss High Intensity Hand Cream ($8 for 1 oz) Macadamia oil and an elegant glide makes this one a longtime purse and carry-on staple of mine.
Sircuit Molecular Mist ($36) A chirally correct face spray for when my face inevitably feels drier than the Sahara on the second leg of my journey. I L-love it (that's a little chirally correct joke).
Shobha Hand Sanitizer for spraying the air to both eradicate germs and ameliorate any offensive odors (the last few flights I've been on, I've unfortunately been seated near folks who seem to believe bathing is optional).
So, in short, a LOT of wipes, some mini sprays, some sleep aids and some hand cream.
That's it! Tell me: What do you pack on long journeys?
Like this post? Don't miss another one! Subscribe via my RSS feed.