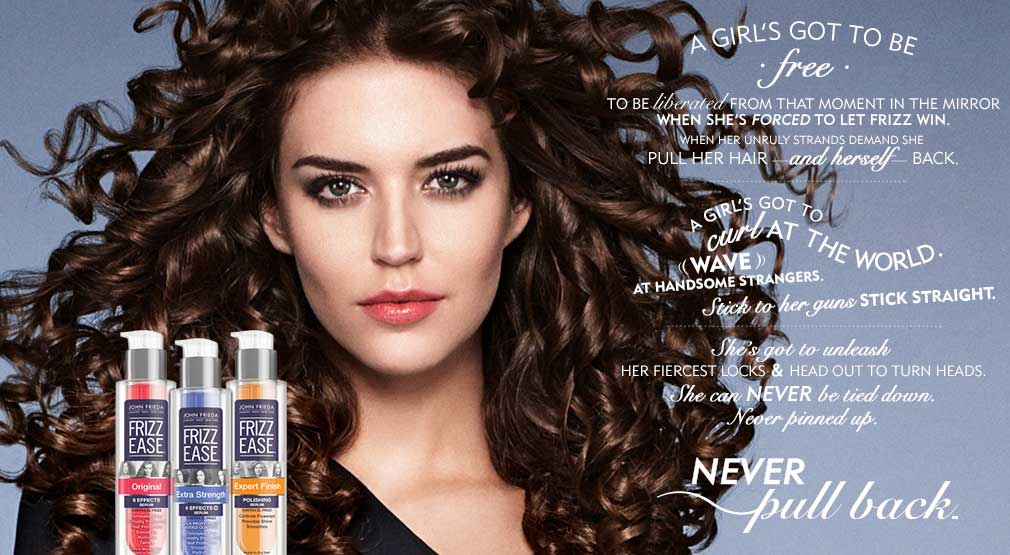 Fictionary is a column showcasing beauty-related words that don't exist, but should.
As anyone with curly hair knows, it's a never-ending journey. You learn tricks and different ways of styling your locks all the time. At age 33, for instance, I learned that combing out my hair post-shower yields curls that are much less defined than if I leave my hair a feral MESS. Talk about counterintuitive.
One thing I've known from way back is that John Frieda's products work really well on my curls; the brand's aspirational ads featuring gals with inspiring spirals (inspiraling!) have drawn me in since the early '90s, when my relationship with Frizz-Ease began. And now, the range has been reformulated and it's better than ever (as are the lady's curls in the ad, above). The perfect spirals! The GLOSSINESS.
John Frieda wants you to feel good about your 'do – and resist the urge to pull it back into a ponytail with their new Never Pull Back campaign.  Check out the video here and more info on the campaign. Even lady liberty's letting down her locks. She's lifting her lamp and her hair tie beside the golden door. It's aspiral-ational, even.
What's your tendency to put your hair up? Is it when you're in need of a wash? On a bad hair day? Because you like the way it looks in a pony? Sound off in the comments.
Disclaimer: This post was sponsored by John Frieda, but all opinions herein are my own.