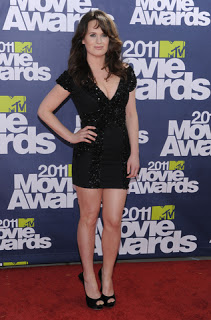 The Twilight Saga's Elizabeth Reaser ended up taking home the MTV Movie award for "Best Movie" along with her vampire cast mates. Jenny Cho, Suave Professionals Celebrity Stylist complimented Elizabeth's LBD with body-full hair. This look was created on the cheap, gals, and it looks phenom.  "We wanted her hair to be glamorous without being overly done so I gave her a look that was full of body and movement with an 80's bombshell feel," says Cho.
Want to get this vampy style at home? Follow Cho's simple steps below:
1. Apply Suave Professionals Captivating Curls Whipped Cream Mousse to damp hair and diffuse with a blow dryer.
2. Starting at the nape, loosely curl sections of hair with a large barrel curling iron, spraying each section with Suave Professionals Touchable Finish Lightweight Hold Hairspray prior to curling. This will keep each section in control for long-lasting waves throughout the night.
3. Once entire head is curled, flip head over and apply a nickel-sized amount of Suave Professionals Sleek Anti-Frizz Cream to hands and run through hair. This will help control any unwanted frizz, separate curls and add gloss.
4. While head is still upside down, mist entire head with hairspray to help hold fullness. This is the best way to add extra body and bounce.
5. Flip head upright and sweep bangs to one side, clipping this section with a flat clip. Blow dry bangs with low heat for a few minutes, remove clip and mist lightly with hairspray for sexy, soft waves.
All Suave Professionals products mentioned are MSRP $2.69 – $2.99. Suave Professionals are available at mass retailers, select drugstores and supermarkets nationwide.
Like this post? Don't miss another one! Subscribe via my RSS feed.