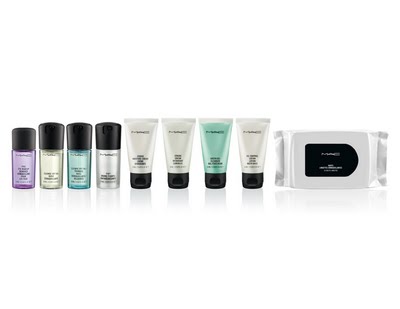 Take on the TSA!
MAC Cosmetics' new Sized To Go Collection boasts all your skin care essentials–under 3 ounces.
In travel, small has a virtue that goes beyond size. It's mandatory! And in your M·A·C skincare formula of choice, small universally approved volumes of 30 ml or less are not only more tote-able, they allow you to carry on all of your favorite regime: Fix +, Cleanse Off Oil, Cleanse Off Oil/Tranquil, Pro Eye Makeup Remover, Demi-Wipes, Studio Moisture Cream, Strobe Cream, Green Gel Cleanser and Oil Control Lotion – everything you need to keep your skin cleansed, refreshed and hydrated. In anything but a round-the-world marathon, small is most likely all you need. These handy sizes also favour local jaunts and can be great for the space-challenged.
M·A·C SIZED TO GO Available June 9 in the permanent collection, exclusively at M·A·C stores.
Like this post? Don't miss another one! Subscribe via my RSS feed.