This post is sponsored by Avon
Avon's Global Creative Color Director (and Hollywood makeup artist) Jillian Dempsey has a pretty awesome gig. She also is married to the ever-spicy Patrick Dempsey, he of "Grey's Anatomy" fame of course, but I've adored him since his "extra anchovies" days on "Loverboy." Obv. Avon recently provided me the opportunity to talk with Jillian in a roundtable discussion all about her latest product info (she's helped develop some amazing new cosmetics!), her opinions on the summer/bridal season's it colors and even some looks she's put together for the season.


First is a quick Q&A with Jillian, and then a how-to of of a beautiful spring/summer look and bridal makeup concept, respectively. Read on…



Beauty Blogging Junkie: What's your secret to achieving a no makeup makeup look? 
Jillian: I like to use spot foundation–just where necessary and then cover any imperfections with my new 4-in-1 corrector palette–four shades that can hide all blemishes and color inconsistencies. 

BBJ: If you could give a bride just one tip, what would it be? 
JD: Wear 20% more blush than normal on your wedding day
Humidiity: primer, blotting papers, waterproof makeup. Blotters exit out oiliness without disturbing.
BBJ: Desert island product time–what would you bring? 
JD: One product only: Be Blushed Cheek Color, which is sort of cheating because I'd use it everywhere–lips, cheeks and eyes. 
BBJ: What's the biggest mistake you see being made with makeup?
JD: Blending is a big issue. I don't like to see unblended lines. It should look seamless. Liquid liner should be the only hard line.
BBJ: What are your traveling staples?
JD: For traveling, I always take a  lip balm, a concealer and lash curler.


To achieve this spring/summer look at right:


1.Apply Jillian Dempsey for Avon Professional Eye Smokifier in Bronze along the upper lash line and circle around near the inner edge of the eye.


2.When applying True Color Eyeshadow Quad in Sandy Corals, apply the darker color in the quad to the outer edges of the eye so the shadow and eye liner meet in the middle of the eye and blend seamlessly. Use the coral color in the quad as a base color on the lid.


3. Complete with a pink Be Blushed Cheek Color and SuperSHOCK Lip Shine SPF 15 in Popsicle for a soft pop of color on the lips.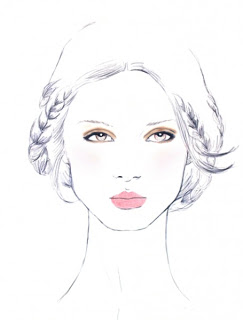 To create this romantic bridal look at left:
1.Apply the base color of the True Color Eyeshadow Quad in Mocha Latte all over the eyelid in a half moon shape.
2.Use the dark color in the crease of the eyelid to contour and underneath the lower lash line for a softer line.
3. Apply the lightest color in the quad on the brow bone to highlight the bone.
4. Accent in center of the eyelid with a shimmering color.
5. Finish the look with True Color Blush in Antique Rose and a warm lip color like SuperSHOCK Lip Shine SPF 15 in Bronze Blitz.


Jillian Dempsey's favorite Avon cosmetics include: 
– JD for Avon Smokifier in Bronze
– True Color Eyeshadow Quad in Sandy Corals
– SuperSHOCK Waterproof Mascara in Brown/Black
– SuperSHOCK lipshine in popsicle
– Be Blushed in Pink Melon
– True Color Eye Quad in Mocha Latte
– Glimmersticks eyeliner in Blackest Black
– SuperFULL Waterproof Mascara in Brown/Black
– Glazewear Lipgloss in Mauve Movement
– True Color Blush in Antique Rose
– Glimmersticks Brow Definer in Blonde
– Ideal Shade Pressed Powder in Light
– Cool Bliss Eyeshadow in Pebble Stone


To locate an Avon Representative call 1-800-FOR-AVON or visit avon.com.


Thanks to Avon for the opportunity! 


Disclaimer: Avon is compensating me for this post, however, all opinions shared are my own.


Like this post? Don't miss another one! Subscribe via my RSS feed.