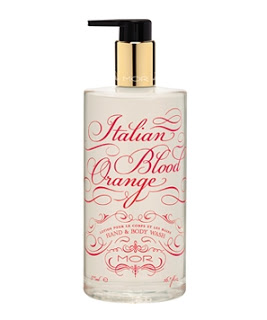 The Beauty Product from Another Country I'm Irrationally Obsessed With column features international beauty gems that cross my path about which I feel you, the reader, are on a need-to-know.
I've said it before and I'll say it again: I've never met an Australian beauty brand I didn't LOVE. Aesop, ModelCO, Jemma Kidd Makeup School, etc. They're all TO DIE. So it comes as no surprise that bath and body brand Mor hails from the sunny shores of down under and it's instantly one of my faves.

I ordered the beautifully citrus-scented Mor Italian Blood Orange Hand and Body Wash ($26) which comes in a large pump-top container adorned with old-school charming lettering on the bottle that gives my bathroom a homey apothecary vibe. Seeing it on my bathroom sink totally feels like it's bringing me into another tax bracket. This brand is the Marvis of handwash.
I also adore that it dispenses the EXACT right amount of product to clean your hands so you don't suds too much and throw excess down the drain–literally and figuratively.
In the sage words of Britney Spears, "Gimme gimme MOR." Purchase the Mor Italian Blood Orange Hand And Body Wash.
Like this post? Don't miss another one! Subscribe via my RSS feed.