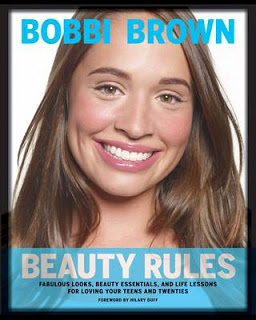 It's a truth universally acknowledged that teens rock WAY too much makeup. I always remember my friend Julia who heads up global PR for NARS telling me that upon her initial entry to the brand, she was trained by one of the brand's makeup artists on all the SKUs. NARS boasts an impressive collection of brushes identified, as many are, by number. Being that it's nearly impossible to remember the names of numbers as they relate to brushes or cosmetics unless you're Rain Man or perhaps Mark Zuckerberg, the makeup artist told her to remember that number 16 was for bronzer. Her mnemonic device? "Sixteen year-olds wear too much bronzer." I have never forgotten this.
Makeup Maven Bobbi Brown acknowledges the heavy hand that plagues teens the world over and has taken back skin by imparting all she's learned about creating the fresh, natural look she's famous for in her new book Bobbi Brown Beauty Rules ($25). Bobbi Brown's goal is to help women "look and feel like themselves, only prettier and more confident." In this spirit, Beauty Rules was written to help gals learn the beauty basics, then get creative and experiment with their look–and ultimately find their own style. When I was a teen, I found my own style with Kevyn Aucoin's Making Faces–but then, I have a flair for the theatrical. The simplicity of Bobbi's message is important for high school students everywhere who are matching their eye shadow to their sweaters. Not that I did that. FINE, I did. Fine.
P.S. Bobbi in designed a pretty palette of wearable lip, eye and cheek colors in conjunction with the book. It includes three flat and sparkling shadows plus pencil and powder liner, two shades of pot rouge and two glosses. As the copywriting says, it'll keep you beautiful "from homeroom to homecoming." The Beauty Rules Palette retails for $45 at bobbibrown.com.


Disclosure: A copy of the book was furnished for editorial consideration.