So I'm finally doing a little backstage so that I can keep busy despite the hellaciousness of losing my dear furry friend Simone. It wasn't as tough a transition as I'd anticipated because it was all in keeping with the feeling of "opposite day" I'd been having since Simone passed. Everything familiar is no longer, even when it comes to Fashion Week. First, we're all at Lincoln Center trying to get our bearings. Second, in two instances–at Derek Lam and at Lela Rose, I saw lipstick used on eyes or eye shadow used on lips. I've dubbed it ass-backwards beauty. It's actually quite charming. Let's discuss the beautiful look at Derek Lam.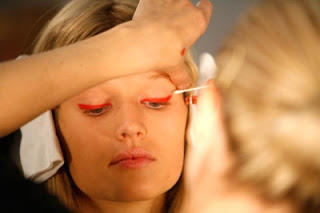 Makeup was done by the inimitable Tom Pecheux, who always busts out a great inspiration. This time at Derek Lam, it was all about breaking rules, playing with color and a decidedly '60s siren vibe. To create this vivid concept, Pecheux layered pigmented coral lipstick over an orange lip liner (he used the brand's Double Wear Stay-in-Place Lip Pencil in Coral) on the lids. Tom tested out the new Estée Lauder Pure Color Lipsticks. The shades will be available in March 2011. This was applied to a triangle of white shadow Tom had applied first, to "change the shape of the eye." Lips were nude to counteract the bright eye. Tom shared this tip for mitigating the appearance of puffy eyes when models come in after a long night: Massage the area with Estee Lauder Day Wear cream, infused with cucumber extract.
Hair god Orlando Pita created a simple look with a great impact. He sprayed some of his T3 + Orlando Pita Plump for volume and blew hair dry with the T3 blowdryer. The front was blown forward and then separated into a casually nonsevere center part. Hair was scrunched a bit once dry at the crown for a small amount of '60s volume for a slightly mussed texture. "It's a '60s-inspired California girl, she's very easy going," explained Orlando.
Jin Soon used a gorgeous new Estee Lauder shade, Extravagant Pearl on nails. The minimalistic hue was applied in a single coat for a light, sheer effect. "It's a cool shimmer," explained Jin. I love that it managed to look gold AND silver, not an easy feat to pull off.
What do you think of this look?


Image credit: allure.com
Like this post? Don't miss another one! Subscribe via my RSS feed.