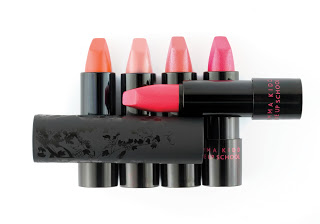 Happy September, friends! This time of year always feels like the real "new year" (perhaps it's the Jewish new year, or the fact that even eight years out of college, I still feel like I want to buy some Lisa Frank school supplies.) Sometimes you just have to be schooled so that you don't fall into a makeup rut and no one does twists on old faves like Jemma Kidd. That's one school at which I'm dying to matriculate.
You can always bet on her colors to be pure, popping and bright. Jemma Kidd Makeup School recently released Hi-Shine Hydrating Gloss Sticks, which are sold at Space.NK.
The lite-brite-esque colors are briskly refreshing and inspired by Jemma's childhood in beachy Barbados. They're quite wearable  They've got the solid, easy application of a lipstick with the glossy finish of a gloss. I'm especially enamored of the "chisel bullet" design of the stick itself and its lack of scent or flavor.
The packaging is futuristically chic. The sleek, flower-adorned tube boasts a satisfying click when you close it, like clicking a pen. To open it, you also click the end and about a 1/2 inch of the tube for you to grab and pull free.
At $25 a pop, they are a bit spendy and I do wish they'd stay on my lips a bit longer. I find I have to reapply every couple hours or so. But that said, the sheer, yet plasticky shiny consistency this glossy stick yields is the gorgeness.
In short, save some dollies first, but do get involved.
Disclosure: Samples of this item were provided for editorial consideration.
Like this post? Don't miss another one! Subscribe via my RSS feed.