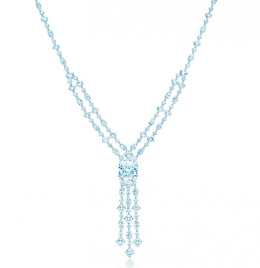 Breakfast at Tiffany's it wasn't, but it most certainly was hors d'oeuvres for dins at Tiffany's! I was lucky enough to be invited to a private cocktail party at the esteemed NYC landmark last week to check out the latest offerings from the diamond behemoth.
As you can imagine, many sparkly confections struck my high-end fancy, but none so much as this $7 million dollar necklace. The me of my dreams rocks ice like this on my private jet to the South of France, where I "summer" (and use summer as a verb) with my Clive Owen lookalike sig oth whilst sipping kir royales and am constantly, flatteringly backlit.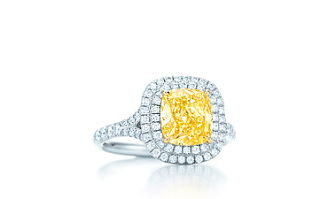 What was I saying? Right. The me of reality also enjoyed the bevy of yellow diamonds (yellow is my fave color) in addition to the latest from Tiffany's signature designers. Paloma Picasso did a Marrakesh-inspired bracelet of enameled interlocking rings. Frank Gehry designed a three dimensional piles of leaves, and Elsa Peretti created adorbs starfish pendants.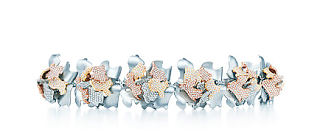 Alas, my debit card isn't stocked at the mo' for me to partake in such luscious gems, but until then, they inspire me.  
Like this post? Don't miss another one! Subscribe via my RSS feed.