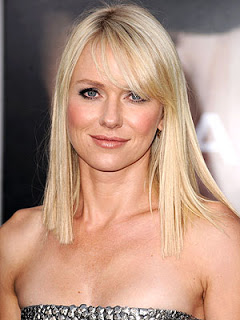 Naomi Watts' new blonde be-banged look is making me question my opinion that blondes don't pull off a fringe as well as brunettes do. Her new look evokes the same sultry, shiny elegance of the Reese Witherspoon 2006 Oscar moment that shook the world, n'est-ce pas? 
At the premiere of Salt last night she looked beyond fabulous as she wore a shorter, dramatic new blunt bob with layered side-swept bangs.
Inspired by the lines of the metallic strapless Gucci mini-dress that Naomi wore, stylist Robert Vetica created a sleek look that referenced 60s British pop and a Studio 54 vibe refined by a soft, natural mood.
According to Vetica, "It was quite a change for Naomi. I cut 2 inches off, kept her hair blunt and collarbone length, and created bangs that swooped to the side. The length is a bit longer in front and slightly higher in back. The bangs were first cut long and blunt, then razored and texturized to about the bridge of the nose so they looked lighter around the face and were
easily swept to the side.
"After we did so many different looks for Cannes, I wanted Naomi to look
fresh and young and really different. The look had to accent her gorgeous
blonde color, have lots of shine and movement and look really healthy and
strong.
I started with Moroccanoil Light because fine blonde hair tangles so easily
but can't take too much conditioner. Argan oil-infused Moroccanoil absorbs
right into delicate lightened hair, makes it easier to comb, gives it a
smoother texture, and eliminates flyaways. It also makes blowdrying faster,
all without weighing hair down. The strands look light and airy, as if I
didn't use any product.
After I blow-dried the hair and shaped it, I used Moroccanoil Glimmer Shine
Spray for an added boost of shine for when she appeared in the spotlight. I
finished off with Moroccanoil Luminous Hairspray to keep flyaways at bay for
the length of the evening, while still allowing the hair to move. I did a
couple of quick mists from about 6 inches, then put a comb through the hair
right away to loosen the look while keeping its hold."
Like this post? Don't miss another one! Subscribe via my RSS feed.