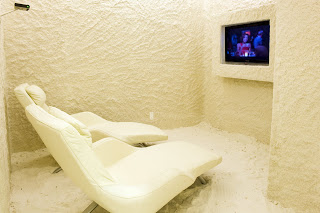 Didn't you JUST say to your girlfriends, come on, ladies. Let's hang out in a salt-encrusted room and lounge on some chairs, watch some salt-covered TV and catch up? Perhaps you will soon.
The new Halo/Air Salt Room Spa is the first and only spa in the US that offers health and beauty treatments using the benefits of salt rooms. So, you're no fool. You know that ingesting massive amounts of salt is detrimental to your health. But did you know that breathing it in and absorbing it is fantastic for your respiratory system and skin, among other things? Salt rooms are quite popular in Europe and Israel. Salt is anti-bacterial and anti-inflammatory. The spa, when experienced on a frequent basis can help with improving skin conditions, detoxification, stress relief and respiratory cleansing. Halo/Air Salt Rooms' environment has imitated the natural conditions of salt caves in eastern Europe. You can actually taste/smell the salt in the air; it's a sensation similar to that of a day at the beach.


The most important reason to visit: Halo/Air's dead sexy owner/founder, Israeli Ron Rofé (pictured, left). We only spoke for a few minutes, but in that time he swiftly become my second favorite Israeli (the first being Idan). He told Dina, Jamie and me that his mother's bacterial infection was actually ameliorated when she visited a salt cave in the Ukraine (where, incidentally, the ancestors of BBJ come from). After speaking with him, I let Dina and Jamie know that the magical mystery of this spa is NOT that you sit in a room with a floor piled with salt like sand and watch salt-encrusted television while reaping health benefits. No. The enchanting thing about this spa is that its stunningly hot owner is a single Jewish man in New York who's tall and has hair. That's pretty much akin to finding a unicorn in your backyard. Just saying.
Ron plans to open salt spas on the UES and UWS, Brooklyn and Jersey. Sodium chic!
Get involved:
Price: $100 for an hour session
Halo/Air Salt Rooms
133 W. 22nd St., between Sixth and Seventh Aves., 646-666-0554
Like this post? Don't miss another one!
Subscribe
via my RSS feed.