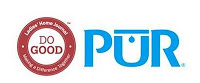 PUR water recently received the Ladies Home Journal "Do Good Stamp."  In honor of National Drinking Water Week this week (what, you didn't rock your Happy Drinking Water T-shirt today?) and their fab new credential, PUR wants to hear how you stay "PUR-ly Beautiful Inside & Out." From cutting down on plastic bottles and filtering their water, to charity work to exercising… they want to hear it all.
A couple cool water facts: 
* Drinking filtered water offers several beauty benefits from providing radiant, healthy and younger looking skin that maintains elasticity and suppleness, to increasing energy levels, supports weight management by flushing out toxins and much more
*Just by switching from bottled water to filtered water in a trendy Sigg bottle, you can save up to $600 a year and eliminate up to 3,200 plastic bottles?  That's a hot pair of Louboutins, ladies
Anyway, here are the giveaway deets: One lucky grand prize winner will win a PUR One-Click Faucet Mount and a cool Sigg bottle! Four runners-up will win a Sigg bottle.
Grand prize details: New PUR One-Click Faucet Mount:  PUR water's brand new line-up of easy one-click installation faucet mounts make it easy to remove 99.9% of microbial cysts and reduce many other contaminants–just snap it on, and drink it up!  The new PUR faucet mount also has a space-saving design that offers a swiveling head and quick disconnect feature that helps move the filter out of the way when needed.
How to enter: Simply tell me in the comments what you do to stay beautiful inside & out. This giveaway is open to US residents only, please. The deadline is Friday, May 7 at 5pm ET. 
Lastly, don't forget to become a fan of  PUR's Facebook page and share your "PUR Beauty" secrets on their wall.  For every new PUR fan, PUR will donate 10 liters of clean drinking water to children in the developing world.
Good luck, dollfaces!
Like this post? Don't miss another one!
Subscribe
via my RSS feed.