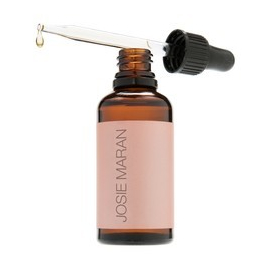 The What's On Your Vanity Series showcases a single beauty item a blogger loves because it's effective, but also she feels she must keep out on top of her vanity because the gorgeous packaging must be displayed.
My friend Roberta is a Brazilian beauty whose chicness reaches almost criminal proportions. She writes the fabulous It's Only Fashion, in which she chronicles everything from celeb style to fabulous baubles and threads. We've discussed her love of Josie Maran Argan Oil before when she told me it cleared up ACNE (I still need to test this out myself), but she uses it for a myriad of other tasks. In Roberta's words:
I'm a bit overly obsessed with products (and a sucker for a marketing campaign) so my vanity is not the neatest or prettiest thing. But midst the sea of old night cream, trial size La Mer stolen from my mom and Gap fragrances (yes I still use Heaven and Grass as if it were 1995), there is one item on my vanity that makes all the other messy disasters disappear with its beautiful packaging.  I've recently become addicted to anything with "natural oils" and the word "organic" in it, like I said a sucker for marketing. 
During a mid fashion week bout of disastrously dry skin I googled "organic moisturizer" and somehow that got me to Josie Maran's Argan Oil. Sure I was attracted to the promise of natural ingredients, centuries old moroccan tradition of skin care oil, organic products blah blah blah, but the minute I saw that brown glass bottle with it's little dropper I was totally in love. I wish everything on my vanity matched this bottle stunning simplicity. It's brown with a tan label and I even love the font on it. The whole thing's just got a zen feeling to it. 
I use Argan Oil at night, on top of all of my night creams and rosacea medicine. It is so gentle and makes my sensitive sometimes burning skin feel so calm. It's like a secret weapon for adult acne, because the oil does something crazy magical to make the pimples go away and at the same time it keeps you moisturized which helps with the ever prominent fine lines on my forehead. It's an awesome pre-makeup primer too and helps concealer actual blend in so much smoother so I don't get that obvious concealer face situation. I also rub the left over oil on my cuticles and it's GENIUS, my nails have never looked so good. Pretty, effective and green – sweet.
Like this post? Don't miss another one!
Subscribe
via my RSS feed.