Dolls, living in New York has made me frugal about quite a few things. I never buy breakfast of coffee except on weekends, I walk and take the subway instead of spending on cabs unless it's after 11pm and I do my own mani/pedis 90% of the time. But I've grown addicted to lash extensions (thanks to my gal Jessica for introducing me!) and am going to try out a third salon, Courtney Akai, per my gal Marina's suggestion. But this lash extension addiction is not cheap, lovies. But I keep keepin' on, as it's my gift to me. And, it saves me five minutes in the morning I used to spend applying liner and mascara. I quizzed the Beauty Bloggerati about their must-have splurges as well, so I could feel better about my spending habits ITE (In This Economy). Here they are: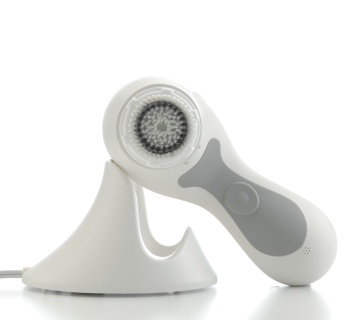 My biggest splurge was the Clarisonic. It took some convincing at first but after I talked myself to stick with it for awhile, my skin thanks me.
[Product Girl]
My biggest splurge is continuing to buy the Chanel Sublimage Cream. This stuff really works for me. Since I've been using it my skin is never dry in the winter time. I even depot some of it for my travel kit. It's $375 a jar, but my goodness is like manna from heaven. I'm still hiding the price from my boyfriend because if he knew I think he would want to put me in Shoppaholics Anonymous. Seriously.
[All About The Pretty]
I am consistently willing to spend money on Bare Escentuals foundation. I've even been using the mineral veil in place of a dry
shampoo (under desperate circumstances)… just don't tell anyone!
[Makeover Momma]
My last big splurge was lash extensions. I tend to obsess about beauty products and services and more often than I admit, I gave in. The lashes look awesome, I barely wear eye makeup these days, and my girlfriends were jealous (that's a good sign right?). I've read so much about them and Anne had them for her wedding and her eyes were so beautiful. Unfortunately, seeing as they require monthly upkeep, I doubt I'll have them too long. Let's just say they required some serious trade offs like no manicure for weeks. I wonder what I'll get next?
[The Jet Set Girls' Hope]
Amber, my biggest splurge was the Brazilian Blowout. This keratin treatment left my hair more manageable and easy to style than I've ever experienced! I absolutely love the results I got from this treatment and will continue to get them as, in the end, it saves my a ton of styling time!
[A Mom In Red High Heels]
My biggest beauty splurge this year is getting my hair perfectly highlighted every 6 weeks. I also bought the T3 Evolution blow dryer for $300 which I ended up swapping for my old-time classic (I got tipped off at the Bumble & Bumble salon in NYC years ago): 1875W SuperSolano Professional Hairdryer, around $100. The T3 just didn't work well with my very thick and full of volume long hair which requires strong power hair dryer.
[Talking Makeup]
My biggest splurge has been Latisse! I love what it does for my lashes but not sure if I want to keep paying $120 a bottle!! The price of beauty, I guess!
[Makeup Bag]
Like this post? Don't miss another one!
Subscribe
via my RSS feed.