Welcome to the Beauty Blogging Junkie 2009 Holiday Gift Guide! The first item is this glamazing hand cream. Behold: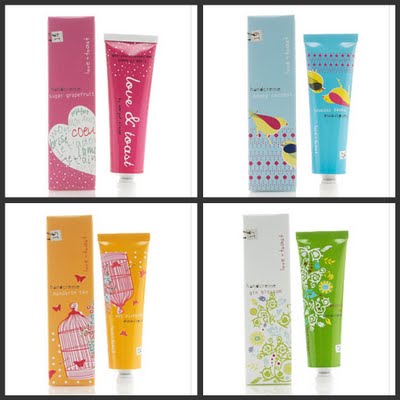 It comes in several gorgeous colors and scents. Pictured above (clockwise, left to right) are: sugar grapefruit (my fave), honey coconut, mandarin tea and gin blossom.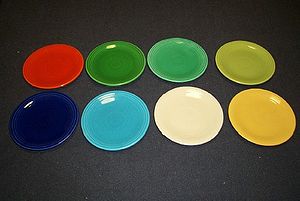 To me, the packaging colors are so… Fiestaware! Sidestory: Do you know about this hilariously brightly-hued line of dishes? See pic at right of a selection of Fiestaware plates, courtesy of wikipedia. The line was created in 1936 and was popular until 1969, then experienced a resurgence in 1986, which we're still riding out. BTW, in A Christmas Story, the Parkers are seen eating on Fiestaware in the scene that precedes the arrival of the famed sexy leg lamp. I've always been mildly obsessed with Fiestaware and haven't invested in real non-IKEA plates yet for my stu-stu-studio because I secretly plan on purchasing some vintage Fiestaware at an antique sale or flea market somewhere. I LIVE for its sassy, unapologeticly bright hues, glossy finish and general retro glamour. You see, dolls, my cra obsessive tendencies know no bounds. They even extend to kitchenware.
Anyway, let's discuss the wonder that is Love+Toast Sugar Grapefruit Hand Cream. I used it before going to pick up take out from Maoz (my fave falafel place–I highly suggest you get involved) and wound up smelling my own hand whilst waiting in line like a complete freak. 'K? It smells of fairies and divinity with sparkling citrus notes without veering into sickly sweet territory. Candied grapefruit if you will, but subtly sophisticated. I don't like sickly sweet; I was raised in a no-sugar household. And it absorbs instantly and leaves no greasy, wet feel so you can go back to living your life (just a little more moisturized) in mere seconds.
Best of all, each piece within the line is reasonably priced. Hand creams go for $10, Lip Balms only $9 and Perfumes are $32. AND they're made with natural ingredients.
Love + Toast creator Margot Elena also the brains behind whimsical beauty brand Tokyomilk, some items from which will absolutely be included in my gift guide later this month. Stay tuned for that!
Like this post? Don't miss another one!
Subscribe
via my RSS feed.
*Disclosure: Samples of Love + Toast Hand Cream were provided by the brand's PR rep.