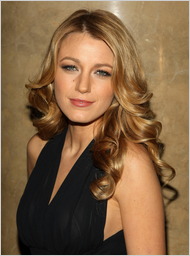 The New York Times
recently reported on the ferver with which gals are requesting
Blake Lively haircuts
and compared it to that epic shag
Chris McMillan
gave
Jennifer Aniston
dubbed "The Rachel." You know. Blake's simply following my lead. Last month,
I was in The New York Times' Style Section
, this month it's her. Stop doing everything I DO, Blake. For the love.
Anywhoodle, I think Blake Lively has fabulous, long, thick, fabulously colored locks. Incidentally, we go to the same salon: Her colorist,
Rona O'Connor
(remember I interviewed her about
Daisy Fuentes
' beautiful hair?) works out of the
Sam Brocato Salon
in SoHo when she's in New York–she has her own salon in LA–where I was just yesterday getting a fabulous voloisturized cut with my mane man
Matthew James
. BT dubs, I've taken a page from my gal Denise's book and have started referring to his blowouts as
The Matt
(in a similar vein as The Rachel). Have you gotten Mattified yet? You must. Call
(212) 334-3777
to make an appointment.
So anyway. While her hair is certainly something to write home about, at the end of the day, it IS just long layered locks. Blake Lively happens to have won the genetic lottery in the thickness department, which is everything. But save for that, you can attempt to recreate this one on your own with extensions or Biotin supplements.
But scoring arm candy as spicy as
Penn Badgely
(is he not the
cat's PAJAMAs
lately? He's the reason I find myself the only person on the planet looking forward to MONDAYS these days, dolls.) Not as easy.
Le sigh.
Like this post? Don't miss another one!
Subscribe
via my RSS feed.