Last night, a select group of bloggers ("Democratization of the industry!" says Poppy about blogging) and I were invited to the downtown offices of Lipstick Queen to meet the brand's founder, the darling Poppy King. While we were there, Poppy introduced us to the brand's new Fifteen Minutes of Fame Pop Art Glosses ($16.50 each–more info below) and the upcoming Fired Up Power Gloss (pictured, above). The latter is my holy grail lip product: a sheer red gloss designed to boost your confidence and make you feel, in the words of Poppy, "like a superhero." 100% of the profits from Fired Up Power Gloss ($14) will go to Count Me In, a nonprofit that benefits women's movement for economic independence.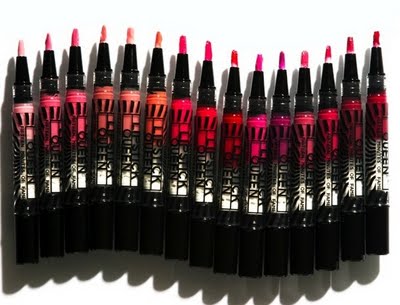 The Lipstick Queen Fifteen Minutes of Fame Pop Art Glosses (pictured, above) are nonsticky hypercolor-inspired shades that come in 15 hues. Why 15? It's a shout-out to Andy Warhol's famous prediction that "in the future, everyone will be world-famous for 15 minutes."
BT dubs? I love, love, love every Lipstick Queen item I've ever tried. In my in-purse makeup bag, there are about eight lip items. THREE of that eight are Lipstick Queen. I just love this brand. I was delighted to meet Poppy after being inspired by her tale of starting her own business at age 18 after being disillusioned by the dearth of perfect matte lipsticks. In her native Australia, she sought a sheer, clear red with "traction," as she says. Meaning the color stays on your lips, but isn't drying nor is it too smeary. "I don't like those really moisturizing-textured red lipsticks that you have to wonder all the time, 'where IS it?'" Poppy said as she gestured toward her ear and then to her shoulder. Poppy actually advises that you NOT rock a red lip with a face full of makeup. Some simple mascara, a bit of blush and a red lip are all you need. I believe this fairy-esque being actually resurrected lipstick to its current en vogue status after nearly a decade of being in circulation only in grannies' "pocketbooks." Perhaps with the help of Mad Men.
A bunch of bloggers (I'm second from the right, next to Dina) and Poppy! Thanks, Kristin, for the photo!
After we "had a play" (as Poppy says) with the glosses, we enjoyed some mini-cupcakes and champagne at the offices. Poppy invited us to come check out her retro lipstick collection and when I shrieked "I MUST take pictures of it!" she replied, "Of course!"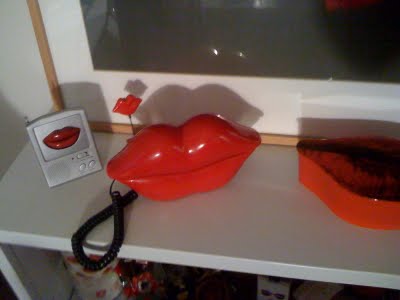 Check Poppy's lip-paraphernalia shelf! Is that a DJ Tanner LIPS phone? I believe it is! Hello? Is Uncle Jesse there?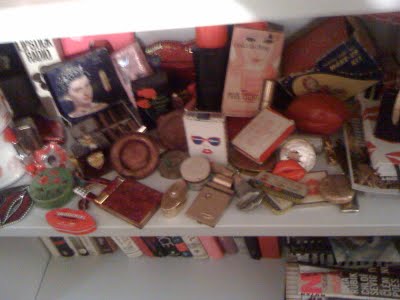 Poppy's in-office vintage compact and makeup situation! She also had a sick selection of mini hand mirrors (which I collect Stanton Social style).
I know it sounds like I'm an incredibly annoying sycophant, but I have to ALSO tell you how much I appreciate that Poppy loves a font and takes it VERY seriously. The font for the box encasing her new Fired Up Gloss is so deliciously retro. To me, it looked kind of like one of the comic book-esque fonts they used to use to be all "POW!" on the Batman television show with Adam West. Remember? I even noticed that Poppy's CLOCK in her conference room used numbers that were absolutely the same font as her Lipstick Queen logo.
The Fifteen Minutes of Fame Pop Art Glosses will retail at Barney's New York, Space.NK, Henri Bendel and online at lipstickqueen.com.
Want to read about more Lipstick Queen prods? Check out my post from just last week about the brand's Glossy Pencils. Lastly, definitely read Poppy's book Lessons of a Lipstick Queen: Finding and Developing the Great Idea that can Change your Life. Read it and you'll see why Poppy is TOTES michpucha.
Like this post? Don't miss another one!
Subscribe
via my RSS feed.