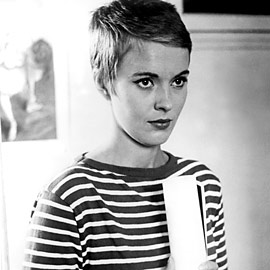 Iowa native Jean Seberg catapulted to icon status when she starred in 1960's Jean-Luc Godard's A Bout de Souffle. I saw the movie during a French film class I took in college and fell in love with Jean's pixie style, even with her quite horrendous French accent. I remain riveted by her pert 'do, of course, but I'm most into her poreless pale skin with nary a MOLE.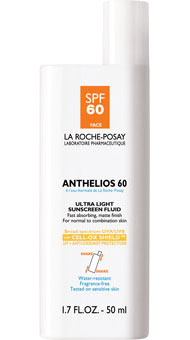 In an effort to maintain my skin's youth and luminosity, I've started embracing some def con 5 levels of SPF. Specifically, I'm employing La Roche-Posay Anthelios 60 Ultra Light Sunscreen Fluid ($27) This sunscreen is EXCELLENT for those days when you forget to layer on sunscreen pre-makeup. I just rub a little of this on my mug with full makeup on and it causes zero "balling up." It's extremely light and even mattifies your situation, should you be prone to shine. Simply shake it up (baby) apply and rest assured your skin will stay Jean Seberg-esque longer. I love that it's fast absorbing AND fragrance free.
Also, check out this hilarious article high SPF numbers in the The New Yorker, which originally triggered my need to up my own levels of sun protection from 30 to 60.
And that's it for Sixties Cinema Scenes Week! Hope you're looking forward to the Mad Men season 3 premiere as much as I am. In the meantime, if you haven't already, check out my interviews with the show's head makeup artist and stylist.
What are you doing this weekend? I'm going to suburban Philly to celebrate Carol's birthday! Tell me your plans in the comments. Happy Friday!
Like this post? Don't miss another one!
Subscribe
via my RSS feed.