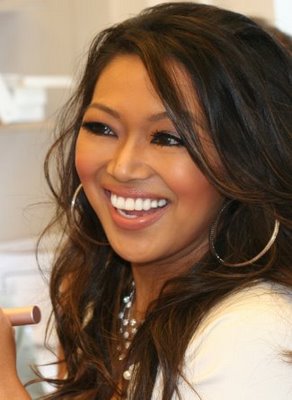 Mally Roncal is a MAGE mover and shaker in the beauty industry, girls. I recently had the opportunity to catch up with this enthusiastic miracle worker who's made up such famous faces as those of Beyonce, Jennifer Lopez, Zooey Deschanel, Amanda Bynes, Maggie Gyllenhaal, Mariah Carey, Lee Ann Womack, Celine Dion, Mary J. Blige, Angelina Jolie, Ashlee Simpson, and Iman. Read on to learn everything from her tips on how to create the definitive smokey eye to what she's using in her '70s shampoo commercial gal hair.
Beauty Blogging Junkie: When did your love of makeup begin?
Mally Roncal: Growing up I always loved makeup. My mother was a huge influence. She was a great mother while also keeping up with a very important career of being a doctor. But she always loved makeup and always took the time to put her blush and lipstick on! She always looked so beautiful! I realized that this was my favorite part of the day. So, my mother's love for makeup and beauty influenced me to become a makeup artist and eventually start my own makeup line.
BBJ: What is most exciting and most challenging about being a makeup artist and having your own line of makeup?
MR: It can be a tricky balancing act between business owner, mom and wife. I'm usually on the road chasing my celeb clients! The most rewarding part is knowing at the end of the day I have worked hard and taken care of my family and business. My dream is to be able to create a machine that could allow me to be in several places at once! My husband, Phil, is my rock and I am so blessed to have him!
BBJ: What was your first big break?
MR: I was very lucky to meet my agent, Jim Indorato, who booked me on several shoots. I nurtured my relationship with beauty editors and gladly gave beauty advice interviews, but what really catapulted my career was when I started to work with celebrities.
BBJ: What are your top three favorite products?
MR: Mally Beauty Cancellation Concealer, ACUVUE OASYS for Astigmatism contact lenses [
ed. note: I'm loving these, too! Stay tuned for a full review
] and Dr Brandt Line less products.
BBJ: How do you achieve such a phenomenal smoky eye?
MR: I created my
Smokey Eye Kit
to take the mystery out of creating a gorgeous smokey eye.
First, always apply an eye shadow base on lids to prep and keep your smokey eyes smoldering all day.
Next, apply a light shadow all over lids from lash line to brow bone.
Then, take a medium shade shadow and apply from lash line to crease. Take a deeper color shadow and blend into the crease of the eye and line against the upper and lower lashes.
Now use a black eyeliner and line the bottom inner rim of the eyes. Make sure to curl your lashes and apply two coats of mascara!
BBJ: What are your top three makeup tips?
MR: Concealer, curl your lashes and a great Smokey Eye. Work those eyes! Smokey eyes look great everyone!
BBJ: What do you like to do when you're not doing makeup?
MR: I spend every moment that I can with my twins, Pilar and Sophie! It gives me the greatest joy to just be with them, we laugh so much.
BBJ: Your hair always looks fantastic. What are your top three favorite hair products?
MR: Fekkai Sheer Hold Hair spray, Wen by Chaz Dean Fig Cleansing Conditioner, Ojon Revitalizing Mist.
Thanks to Mally for agreeing to be interviewed! I'm implementing her smokey eye strategy THIS weekend in Montauk! I will let you know the results.
Like this post? Don't miss another one!
Subscribe
via my RSS feed.