In honor of Janet Jackson's 43rd beeeeday (as Tamar says) this past weekend, I felt it was necessary to do a Janet-inspired post to theme of… Rythym Nation, obv. Parenthetically, has anyone else ever noticed that Britney Spears TOTES ripped off Janet's whole dance routine? I love me some Brit, but come on. It's so Janet Jackson 2.0. Anyway.
Rock your key earring a la Janet and gain control of your wardrobe with these ruffled items. Because not rocking ruffles? Well, that's not the way love goes. Here's yet another round-up of my fave ruffled items of late. Check it.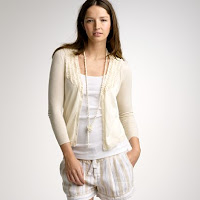 J Crew Featherweight Cotton Ruffle V-Neck Cardigan ($78)
I told Dina about my upcoming Ruffle Nation post and she contributed this little gem. It can take you from the boardroom to drinks with fashionistas in a flash.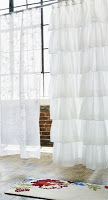 India Rose White Devil Shower Curtain ($96) Though it's a lot more than I wanted to spend, the clean, yet sweet ruffles on this Anthropologie-esque shower curtain absolutely. slay. me. After a month of searching far and wide for the perf ruffled shower curtain (they're not as common as you'd think), this one is hanging in my bathroom. But as Janet says, "no struggle, no progress."
No one does ruffled shoes better than Loeffler Randall. This Circular Ruffle Flat in Black will set you back $270, but just keep in mind that's down from $450. And that you can tell just by LOOKING at them that they're made in Italy. Italian shoes are the best, dolls. Don't forget it.
Love,
Amber (Ms. Katz, if you're nasty)
Like this post? Don't miss another one!
Subscribe
via my RSS feed.