Dove go fresh has partnered with Warner Bros. Television and The CW to create a video series inspired by Gossip Girl called GOSSIP GIRL: Real NYC Stories Revealed. Gossip Girl star Jessica Szohr is working with the brand to promote the series in celebration of the launch of the new Dove go fresh Burst Body Wash.
The series introduces four real girls from Manhattan's Upper East Side who grew up in the same NYC hotbed as characters of Gossip Girl. These real girls have followed their passions to define their own successes in life. Here are the deets on the real girls:
·
Chrissie Miller
: fashion designer and founder of the Sophomore apparel brand (pictured above)
·
Faythallegra Coleman
: emerging Brooklyn-based filmmaker and writer
·
Dani Stahl
: style director for Nylon magazine, jewelry designer and "IT" girl
·
Lara Meiland-Shaw
: co-founder of a Lara Hélène Bridal Atelier and philanthropist
GOSSIP GIRL: Real NYC Stories Revealed will introduce each story in a 90-second broadcast TV spot airing nationwide during the last commercial break of Gossip Girl episodes on The CW, beginning April 27 (8 p.m. ET/7 p.m. CT). Gossip Girl fans will then be able to catch the finale of each girl's story by visiting www.cwtv.com/dovegofresh on their PC or mobile devices. More info will be available online at both www.cwtv.com/dovegofresh and www.dovegofresh.com, including behind-the-scenes footage of the making of the series, exclusive interviews with Gossip Girl star Jessica Szohr and the Dove real girls, along with Dove go fresh product information.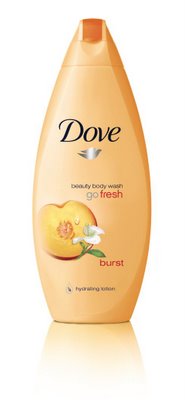 Speaking of, Dove go fresh is now offered in four deliciously fragrant variants and available in beauty bar and body wash, deodorants and matching body mists. The Dove go fresh collection is available in food, drug, club, mass and club retailers.
· NEW Burst: juicy nectarine and white ginger
· Refresh: clean waterlily and fresh mint
· Energize: sparkling grapefruit and lemongrass
· Cool Moisture: crisp cucumber and calming green tea
I'm loving the new juicy nectarine and white ginger scent. It's very fresh and fruity. The body wash (pictured above) and beauty bar have become staples in my shower. Best of all–both cost less than $5.
Be sure to check out the first episode of GOSSIP GIRL: Real NYC Stories Revealed on Monday, April 27.
Like this post? Don't miss another one!
Subscribe
via my RSS feed.