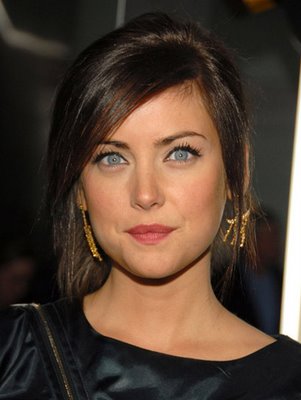 Celebrity makeup artist Vanessa Scali used Dior Beauty products on 90210 actress Jessica Stroup for the premiere of her new film The Informers last night in Los Angeles.
"The look is simple and graphic. A black lined eye with a ruby stainedmouth," said Scali. Here's a rundown of the products used (I love the word "rundown" since it plagued cute Jim on The Office last week).
UNDEREYE: Clean and fresh. Dior Skinflash Radiance Booster Pen tobrighten under the eye.
FOUNDATION: DiorSkin Nude Natural Glow Hydrating Makeup.
BLUSH/BRONZER: Dior Bronze Original Tan to warm up the skin (used in thecontours), Dior Pro Cheeks in Catwalk Pink for a touch of color on theapples of the cheeks and Dior Night Diamond to highlight the cheekbones andgive them a soft shimmer.
EYESHADOW: Dior 5-Colour Iridescent Eyeshadow in Golds #569. I used thelightest color (center palette) all over the lid and a touch of the lightgold color (upper right hand corner) to the center of the lid.
EYE LINER: Dior Liquid Eye Liner in Black.
MASCARA: Lots of DiorShow Mascara in Black. Still the best formula forluxurious full lashes.
POWDER: DiorSkin Forever Compact in the T zone.
LIPS: Rouge Dior Lipstick in Devilish Pink. Applied with a brush and then blotted to leave a sheer stain.
Image credit: Makeupbag.net.
Like this post? Don't miss another one!
Subscribe
via my RSS feed.