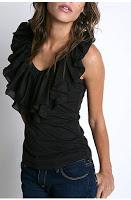 Friends know this about me: I never met a ruffle I didn't like.
My impending move (next Monday, wish me luck!) has left me with zero disposable income, so a couple weeks ago, I decided to make this Hawks by Geren Ford Ruffle Tank from Urban Outfitters ($78) my swan song purchase before moving to my stu stu studio. PS If you buy it, get it a size or two up. I'm normally a small, sometimes a medium, but I needed a large in this.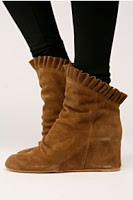 This Dani Ruffle Boot ($100) from Free People is haunting me. HAUNTING. I know it's going to be one of those things I think about years later, plagued by the OPPOSITE of buyer's remorse. Its hidden wedge heel enchants me. I'd rock it with the shirt above and have a whole ruffle SITUATION. It IS on sale. Just saying.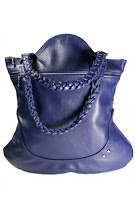 Lastly, I present thee with the Cha Cha Entourage Bag in Blueberry ($365 – just a dollar a day for a YEAR, right?) I mean, DEATH. Truly, it's not exactly ruffled, but its nonlinear silhouette is EVOCATIVE of a ruffle, right? If this bag graced my closet, it'd surely be the Vincent Chase amongst the other Dramas, Turtles, and Es in my wardrobe. The braided straps are PRESH, n'est-ce pas? I normally don't love to rock blue (I sort of live in a warmer palette), but this cornflower-purple hybrid awakens something in my very SOUL.
What ruffled items are you loving of late? Share in the comments!
Like this post? Don't miss another one!
Subscribe
via my RSS feed.