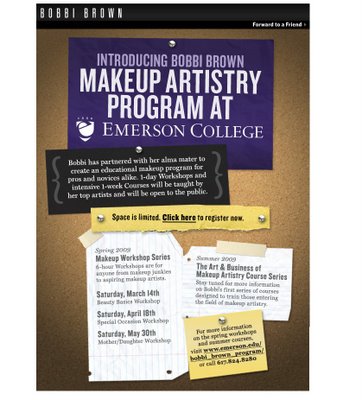 Bobbi has partnered with Emerson College, her alma mater, to create an educational program for aspiring and professional makeup artists. Taught by her top artists, this program offers 1-day Workshops in which the artists can hone in on their makeup skills and intensive 1-week Courses to train and prepare the aspiring artists for a successful career in makeup artistry.
"The Bobbi Brown Program is dedicated to excellence in educating individuals who seek to enhance their personal lives or prepare for a career in makeup artistry," said Mary Harkins, associate professor in Emerson's Department of Performing Arts, who oversees the program. "The program draws upon the artistic integrity and professional reputations of Bobbi Brown and of Emerson College, which is known for its leadership in communication, film and the performing arts."
The initial 1-day workshops will be given in spring of 2009 and the first series of 1-week courses will be offered in summer of 2009.
Spring 2009:
Bobbi Brown Makeup Workshop Series
For anyone from makeup junkies to aspiring makeup artists. Each six-hour Workshop includes a makeup lesson and demonstration followed by hands-on application by each student.
Saturday, March 14th: Beauty Basics Workshop
Saturday, April 18th: Special Occasion Workshop
Saturday, May 30th: Mother/Daughter Workshop
Summer 2009:
The Art & Business of Makeup Artistry Course Series
Bobbi's first series of courses designed to train those interested in entering the field of makeup artistry. Program of instruction varies based on the course level and focus. Each 1-week course results in three college credits. Stay tuned for more information.
Dates to be announced:
June: The Fundamentals of Makeup Artistry
July: Advanced Makeup Artistry
August: The Business of Makeup Artistry