Suave has provide BBJ readers some hairstyles-straight-from-the-Grammy-Awards-red-carpet how-tos! Suave Celebrity Hairstylist Luke O'Connor has provided instructions on how you can create these fabulous 'dos below. BT dubs, remember when I interviewed Luke and his wife, colorist to the stars Rona about how they as a team created Daisy Fuentes' look for her perfume launch party? Click here to read the interview.
The Look: Bohemian Back-DoTaylor Swift
looked phenom at last night's event. Her hair was pulled loosely back with soft pieces around the face.
To recreate at home:
Wash hair with Suave Humectant Shampoo and Conditioner to moisturize, leaving hair soft and manageable. Apply Suave Extra Hold Mousse to towel-dried hair and blow dry with a round brush. To create soft, loose waves, use a 1 – 1.5 inch curling iron and spiral hair around it in sections. Stop here to wear hair loose and long. To go to the next level a la Taylor Swift, create a side part and pull hair back into an extremely loose braid. Secure at the bottom and then flip under, securing with bobby pins at the nape of the neck. Let a few soft pieces fall to frame the face and create beautiful texture. Finish with Suave Extra Hold Hairspray.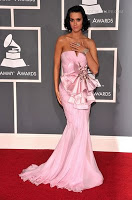 The Look: 40's Flapper Hair
Katy Perry's tunes were not her only noticeable contribution to the Grammy Awards. Her hairstyle was also a standout. Katy had a classy rendition of a 40's style wave – defined yet soft and a fun look for those with shorter hair.
To recreate at home:
Shampoo and Condition hair with the Suave Damage Control line to moisturize hair and add a layer of protection from the curling iron used in this look. Take two to three inch sections of hair and roll into barrel curls around a one inch curling iron, using the iron as if a roller. Clip each roll to set in place. Work from the top down until all hair is set. Once finished (and hair is cool) apply a light mist of Suave Extra Hold Hairspray. Remove clips and lightly brush through hair to create a soft wave. Finish off with another spritz of hairspray.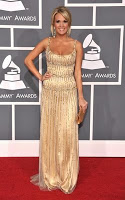 The Look: The Dressy Ponytail
A few Grammy rockers rocked a dressy ponytail – a twist on the classic ponytail creating an elegant but simple up-do. Carrie Underwood, Jennifer Hudson and even red-carpet correspondent Giuliana Rancic all sported this look.
To recreate at home:
To mimic Carrie Underwood's pony, use Suave Volumizing Shampoo and Conditioner in the shower and then apply Volumizing Root Lifter Spray Gel to the roots of towel dry hair to add body to hair without weighing it down. Blow dry hair with a large round brush to smooth hair, turning hair under. Part hair on the side for a swept bang and then back comb hair around the crown to create extra volume. Pull hair back into a ponytail one to two inches from the nape of neck, and pull out some pieces around the face for added softness. Before securing, carve out a small piece of hair to wrap around the base of the pony, concealing the band. Lock the look in place with Suave Extra Hold Hairspray. Now if only Luke could tell us how to get legs like Carrie Underwood's…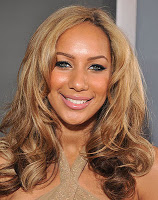 The Look: Sultry Waves
Soft, sultry waves are always a favorite at award shows and a hot look at the Grammy's this year. Leona Lewis sported this look and added an elegant twist by leaving the top hair of her hair straight and falling into a loose curl at the bottom of her locks.
To recreate at home:
Apply Suave Healthy Curls Scrunching Mousse to towel-dried hair to help define waves and control frizz. Flip hair over and blow dry hair until most of the moisture is gone and hair is 85% dry. Section off the top section of hair from the center of each eyebrow back to crown, and clip out of the way. Dry remaining hair completely. Use a 1.5 inch curling iron on two inch sections of hair and spiral wrap around iron, leaving waves loose and smooth. This should be about six to eight sections of hair. On the top section, use a medium round brush and blow dry back, straight and smooth. Back-comb for added volume and use a curling iron for finishing touches around the face. Set into place with Suave Extra Hold Hairspray.
I enjoy Taylor Swift's look the most. What say you?