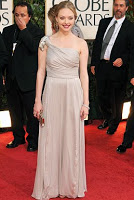 Monika Blunder
created a "romantic yet modern" look for
Mamma Mia
actress
Amanda Seyfried
, who, in my opinion, gets lipstick right 100% of the time. Last night was no exception! "I wanted her skin to look flawless with a hint of luminescence," said Blunder. "On the eyes I used a subtle color with a little edginess."
Skin: DiorSkin Nude #022
Eyes: Dior 5-Colour Eyeshadow #775 (darkest shade) and 5-Colour Eyeshadow in #009 (lightest color), Dior Crayon Eyeliner in Precious Violet, DiorShow Mascara.
Lips: Dior Lip Pencil in Heather Rose and Rouge Dior Lipstick in Fantastic Plum #874.
Pati Dubroff
created a "strong yet soft" look for presenter
Megan Fox
. "The makeup is soft and monochromatic with a super shiny gold on the lid," said Dubroff. "The gold adds a 'fashion statement.'"
Eyes: DiorShow Mascara in Brown, Dior 2-Colour Eyeshadow in Nude Look, Dior Eye Show in #622
Skin: Dior Night Diamond Palette to highlight face and eyes, Dior ProCheeks in Hip Peach
Lips: Dior Addict High Shine Lipstick in Nude Silhouette #214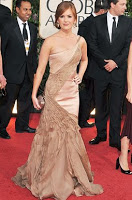 Sabrina Bedrani
created a "healthy glow" for actress
Isla Fischer
. "The dress and the hair were very classic," said Bedrani. "I didn't want to do atypical smokey eye. I wanted to keep it a little fresher, so I gave it Sixties flair."
Eyes: Dior Waterproof Eyeliner in Trinidad Black, DiorShow Mascara in Black, Dior 5-Colour Eyeshadow in Stylish Move.
Face: DiorSkin Nude Foundation and Anticerne Perfecteur and DiorSkin Extreme Fix Powder.
Cheeks: Dior Bronze 001 Sunshine HarmonieLips: Dior Addict Ultra-Gloss Reflect in #617
Jo Strettell
created a look for presenter
Demi Moore
, who wore a gorgeous Dior gown to match her Dior makeup.
Eyes: Dior 5-Colour Eyeshadow in Earth Reflection #609 and DiorShow Mascarain Black
Cheeks: NARS Powder Blush in "Dolce Vita"Skin: Sensai by Kanebo "Fluid Finish Foundation"
Lips: Dior Addict High Shine Lipstick in Casual Beige #222 with DiorUltra-Gloss Reflect in Lurex Plum