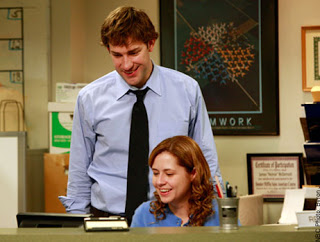 Just as there's a time and a place for "no makeup" makeup, there's also a time and a place for office crush beauty and fashion. It can be difficult depending on the level of conservative dress code at your office. I've worked in several work environments ranging from I'mTrying to Make This Suit Look Sexy in the Least/Business to I Promise I Dress Well Outside of Here – Here's a Glimpse/Business Casual. Also, as I've worked in finance for the past five years, there's been no dearth of office dudes for crush fodder. There's something very Jordan Catalano about the whole thing that makes it more exciting than a normal crush. Even if you do have to send him emails that end with a "Please advise."
Makeup should be somewhat minimal; this is an office, not a club. I'd use only as much foundation as you require, concealer, a liquid or cream blush, mascara, a good liner, and a stain or lipstick. Gloss is doable, but I find people take me far more seriously (I know, can you believe anyone takes me seriously?) when I don't wear gloss. My recommendations: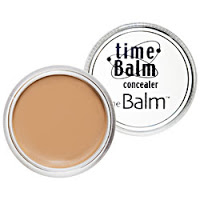 Concealer theBalm TimeBalm Concealer ($17)
Provides excellent color pay-off thanks to its high pigment formula.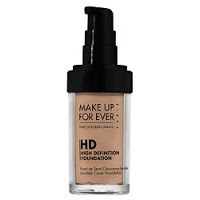 Foundation Make Up For Ever HD Invisible Cover Foundation ($40)
My holy grail foundation of 2008. I LOVE it. It diffuses light for a soft-focus effect and yields light-to-medium coverage.
Blush Benefit PosieTint ($28) I forgot about this for a hot minute, and then last week, we were suddenly "reunited and it feels so good." This petal pink liquid blush is the perfect lit-from-within pink for a playing-in-the-snow glow. I also love it on lips topped with a smidge of Aquaphor.
Liner Make Up For Ever Aqua Eyes Pencil ($16) I have yet to find something that tops MUFE's waterproof iteration. And yes, I'm having a mage love affair with MUFE of late.
Lipstick Three Custom Color's The L Word Collection's Lipstick in Alice ($20)
First of all, what an excellent inspiration for a makeup collection. I've fallen in LURVE with Alice, a warm, nude rose infused with champagne shimmer. I know. Just do yourself a favor and get yourself one.
If your office's dress code is business casual, I'd steer sartorially toward ruffles a la Johanna of Stylista fame and previously, blogger/founder/editor of A Serious Job is no Excuse. Knee-length (or just above) dresses and pencil skirts make me feel far less frumpy at my fab post-work events, especially when paired with a cute sweater, blouse, or silky tank/cardigan combo. I rock a lot of low-cut sweaters with a cami underneath for nonscandalosity. I'd also recommend investing in fab work shoes. Because unless they're too revealing (and they shouldn't be at all, in a biz casual work environment), it's pretty easy to rock some seductive ones that are totally appropriate. My personal stash includes SEVERAL flat knee-high boots (I have a ten-minute walking portion of my commute), patent high heels (the Cole Haan Nike Air collection especially rocks – like that '80s commercial that discussed shoes that "look like a dress shoe, FEEL LIKE A SNEAKER!"), and fun Chanel-esque (I hope to be able to drop the -esque sometime soon) tweed pumps.
What are your best tips for an office crush situation? Tell us in the comments!