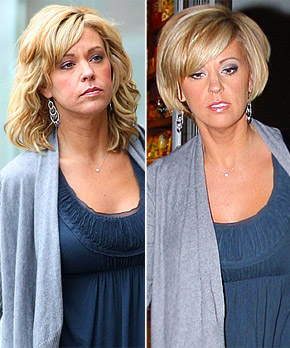 Kate Gosselin premiered a new rounded bob yesterday for her March 22 Dancing With The Stars debut and has taken out her Ted Gibson-given extensions. Apparently, this change was only for yesterday, as Ted Gibson confirmed that he'll be replacing the extensions today. So again, the gal who didn't change her hair for ten years now can boast 4 (including the replacement extensions scheduled for today) hairstyles since January, 2010. 
I am not a fan of how round her new 'do is. I find it ages her. What do you think of Kate Gosselin's new bob?
Like this post? Don't miss another one!
Subscribe
via my RSS feed.