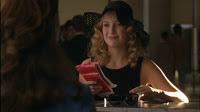 There are so many Morocco cultural references of vital importance to me that I actually refuse to pick just one. The first is my girl Penny Lane (pictured, left), who in Almost Famous had only one plan (besides touring with Russell Hammond, obv): to go to Morocco for one year.
And the second is from my favorite episode EVER of Absolutely Fabulous: The Morocco episode. Check it:
"I'm just going to get some little gorgeous things." –Patsy
The gorgeous thing from Morocco in my lifestyle is Moroccanoil Treatment ($39). It has CHANGED MY LIFE. Creator Carmen Tal discovered this miraculous product based on argan oil, which women in Morocco have used for centuries to treat their hair, nails and skin. Moroccanoil Treatment is a weightless finishing, styling and shine product all in one. Its patented formula absorbs into hair instantly, leaving a glassily silky finish and GLEAMING shine. It even protects against UV damage and other environmental hazards. Applied to damp hair, it reduces drying time and speeds up styling time (I'd say by about 3-4 minutes) . It pretty much does everything for you but drive you to the Hamptons.
Prior to styling, apply a small amount into your palms and work through clean, damp hair. Apply again to superdry hair. In salon, you can even massage a small amount throughout the hair before coloring to enhance the hair's ability to absorb dye. It comes in an amber glass bottle to protect the oil from UV rays, which can cause oxidation.
I've been using it for the past few days and I can't IMAGINE living… if living is without it. ALL of my friends have complimented my hair of late, demanding to know what I'm using on it and ALL I can do is sing its praises. It earns hair product holy grail status, gals. Get some IMMED if not sooner. I plan to rebuy and rebuy it.
Check the shinyness of my hair in my faux prom picture (left) from this weekend's HS reunion with my senior prom date, Ted. Stay tuned for a run-down of the eye makeup situation.