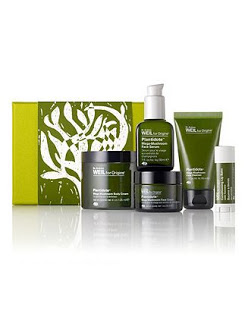 During the '90s, when it came to fashion, earth tones reigned supreme. Maroons, browns, heathered oatmeals… it was a veritable poo poo platter of waffle-knit henley tees (remember those?) in BLAH colors. One color in particular really "came of age" in the '90s, and that color is olive green. Even I, an adamant '90s fashion hater, submitted to the olive green. It was alluring. It had only previously penetrated the culture in the realm of the military. And suddenly, bafflingly… it was sort of chic. And EVERYWHERE.
As phenom plant-based brand Origins was founded in 1990, it seems only natural that they chose olive green to brand themselves. So in the spirit of olive green, the impending holiday season, and the '90s, I hereby recommend the Origins Dr. Andrew Weil for Origins™ Be Weil Collection Gift Set
($79.50).

The set includes:

All are designed to eradicate, as Dr. Weil calls it, "the fire within" – a key cause of dryness, redness, hyperpigmentation, lines and wrinkles. Who needs that? Not you, dolls. Not you.
P to the S, Origins boasts an impressive holiday gift collection, which you can see in its entirety here. Moms will lurve their subtly scented Tree-mendously Ginger Set ($60).
And that concludes '90s Ladies Week here at BBJ HQ!
Rock your overalls, don your new platforms, put on your Spice Girls CD, and check out Daneen's '90s fashion-inspired post at Spoiled Pretty.