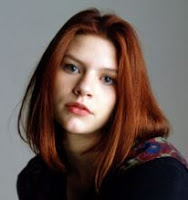 Hi dolls, and welcome to '90s Ladies Week!
All week long, Daneen and I will be taking you on a little tour of nostalgia, much like how we did for '80s Ladies Week. We're kicking it off with a beauty product inspired by a '90s TV show. My choice? One of my favorite shows of all time (it's definitely in my top 5 to this day), My So-called Life.
In a time of horrendous fashion and beauty (the '90s was, in my opinion, the FUGGEST decade), Angela Chase (played by then breakout star, Claire Danes) was an oasis of gorgeosity with her shiny, shiny crayola 8-pack red locks and pale, perfect china-doll skin.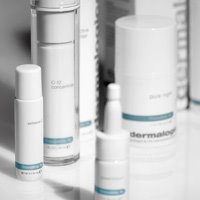 To get Angela Chase's perfectly smooth, creamy skin, I recommend Dermalogica's ChromaWhite TRx System. As we are in a recession, I'm not going to recommend the entire set to you (but just an FYI: I've tried each product and they all work well.) The line was created to brighten and even out skin tone, while reducing the appearance of hyperpigmentation. Also, it's important to note that the usage of these products does not cancel out the effects of your facial self-tanner. I was initially worried about that, but I've found that applying both the Chroma White system and self-tanner only yields warmer-hued, brighter, more even skin tone. Not a washed-out pallor. You know? The two most important components of the system are Tri Active Cleanse and Pure Light.
Tri Active Cleanse ($38)
Created without the use of hydroquinone, this creamy, non-foaming cleanser evens and brightens the skin's tone without damaging or irritating the skin. It helps to remove discolored cells while purifying your skin of debris, excess oil and impurities. After using it for six weeks, I've noticed my skin looks brighter and clearer. Best of all, it FEELS much softer.
Pure Light SPF 30 ($60) A dollup of this stuff applied daily to face and neck makes my skin feel smooth to the point that I plum can't stop feeling up my mug. Seriously. I love that it's packed with an SPF of 30, hydrates exactly enough without overdoing it on my combination skin. It emulsifies on your face with utter ease.
Your peau will glow in such a manner that people will throw themselves at you. And as Rayanne Graff said, "people throwing themselves at people? Is, like, the basis of civilization."
Can't get enough of the '90s? Don your flannel, rock your new piercing, put some Techno on your Walkman, and head over to Spoiled Pretty and read about what '90s TV show has inspired Daneen's product choice.