You GUYS. You KNOW how I feel about hair. It is my everything. I never understand why some gals premiere their new expensive, phenom outfit with boring or bad hair. You know. Hastily thrown up into a ponytail (and not a fab one with volume at the crown, for example.) Or they just don't take the time to blow-out their situation. I plum don't GET it. Your hair should match your entire look. It's the best accessory there is. Make the MOST of it, I implore you.
As such, I've been doing extensive labs in my shower involving a hypothesis, control, and a variable just as my fave science professor EVER, Professor Beverly Yu (who went by Prof B. Yu at BU) taught me. Don't think I'm kidding, 'cause I'm not. I typically use shampoo, conditioner, a volumizing product – either a spray or a mousse – and smoothing serum or creme. I will ONLY introduce one never-before-tested item into that mix so that I can isolate the variable to figure out what exactly is causing my hair to look better than ush (when that is indeed the case.) AND I experiment with different combinations of different items that work well together for many different cocktails yielding great hair. Many straight-up suck, many are decent, and many are good–but I really only report the ones that are truly fantastic. I've identified a new combo that makes my hair look voluminous, bodified, shiny, and hydrated – without making it weighed-down or greasy for at least 48 hours. What is it?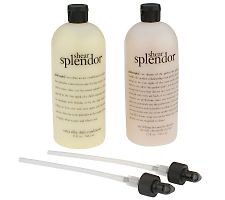 Philosophy Shear Splendor Daily Shampoo ($22) and Extra Silky Daily Conditioner ($18)
You FEEL the hydration/manageability commence in-shower. Both the shampoo and the conditioner smell like a dialed-down version of their popular Cinnamon Buns Shampoo, Body Wash & Bubble Bath. Heat-damaged and color treated hair drinks in the moisture this winning combo provides with utter ease and more importantly, with no residue or heavy feeling.

Blow The Heat is on Mist ($18)
Light as air, this light conditioning mist acts as a protective glossy shield to heat. Your follicular knight in shining armor (from a long time ago…), if you will. It's a lot like my former fave heat-protectant, The Big Blow-Off, which is no longer produced by Philosophy. Blow's formula is very similar and keeps my mane bodified and bouncy without weigning it down. I apply it on clean, towel-dried hair and do household chores for, say, an hour. My hair air-dries looking unbelievably silky, frizzless and shiny with NO heat. Then, I simply blow out the kinkiness (my hair is wavy/curly) for smoothness and then twist it up into a bun so I can do the "sexy secretary" (unclip my bun and shake out my hair with wild abandon) to reveal luxurious waves. Can also be used on dr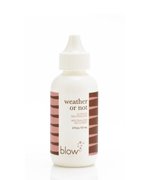 y hair for a quick touch up.
Blow Weather or Not Climate Neutralizer ($20)
A little of this on your ends will keep your strands polished and without flyaways – whatever the weather. Use just on tips for dryer days, from ears to tips during especially humid times.
What hair care items are working especially hard for you lately? Tell me in the comments!