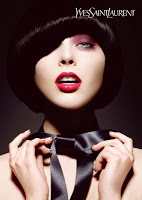 "One should always be tempted to untie a woman's clothes"
– Yves Saint Laurent
A symbol of femininity and the love that Monsieur Yves Saint Laurent had for women, the bow – be it demure or sexy, a velvet loop or a satin tie – has woven its way through his collections. For the grand finale of 2008, the Bow Collection reinterprets the symbol and pays tribute to the Couturier thanks to Artistic Advisor-YSL Makeup, Val Garland.
The collection, festive and colorful, unveils four Limited Edition, must-have accessories – PALETTE DUO POUR LES LÈVRES, Palette de Maquillage Multi-usage, FARD À PAUPIÈRES 4 COULEURS and Touche d'Or pen-brush – as well as new shades from Golden Gloss (n° 16 – Golden Burgundy), FARD À LÈVRES ROUGE PUR (n° 142 – Honey Beige), and La Laque (n° 37 – Deep Blue and n° 38 – Moonlight White).
Available now at www.yslbeautyus.com