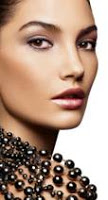 The first frost. Sparkling, sunlit snow. All the best shimmers and shadows of winter are Aglow in Prescriptives new holiday color collection. Shades are infused with light-catching nuances inspired by winter's frosty effects. Eyes shimmer in glacial mauve and icy platinum with glints of white and deep plum. Cheeks take center-stage with a warm sparkle that is soft and radiant. Lips are enhanced with a glossy high-shine finish. Stay Aglow this season with Prescriptives.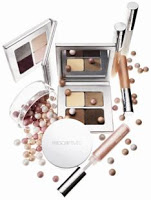 Winter Reflections All-Over Highlighter
LIMITED EDITION
These ultra-luxurious soft powder pearls enhance and illuminate the face and cheeks with a radiant glow. Pearly white, soft beige and a whisper of pink blend together to highlight, define and contour the face with a soft wintry sheen that is flattering to all skin types. The perfect finish to every holiday look, these pearls can be dusted on the face or décolletage for soft radiance or layered on for a more dramatic shimmering effect.
Key Benefits:
· Customizable – wear for a sheer glow or layer for depth and dimension
· Multi-functional – highlights, defines and contours cheeks, face and décolletage
· Satin, lightweight texture
· Non-acnegenic
Winter Reflections Eye Color Quad
LIMITED EDITION
Highlight eyes in shimmery new shades of Colorscope Eye Colors. These wearable eye colors come in a sleek platinum mirrored compact for added holiday fun! Palettes available in Warm and Cool.
Warm:
* NEW Chestnut – LIMITED EDITION
* NEW Brunette – LIMITED EDITION
* NEW Suede – LIMITED EDITION
* Banana
Cool:
* NEW Oyster – LIMITED EDITION
* NEW Twinkle – LIMITED EDITION
* NEW Eclipse – LIMITED EDITION
* Shell
Colorscope Lipcolor
LIMITED EDITION
Delivers shimmering color that glides on smoothly to create luscious lips that stay true all day in soft luminescent shades that light up your look.
Shades:
* NEW Golden Quartz (Y/O) – LIMITED EDITION
* True Bronze (R/O)
* NEW Winter Rose (R) – LIMITED EDITION
* Wisteria (B/R)
Colorscope Lip Gloss
LIMITED EDITION
Glaze lips in extraordinary shine with a sheer, comfortable gloss. Lips sparkle in sugar-coated shades of frosted ginger, crystallized rose and shimmery nude.
Shades:
* NEW Twinkling (Y/O) – LIMITED EDITION
* NEW Peachy (R/O) – LIMITED EDITION
* NEW Rosy (R) – LIMITED EDITION
* NEW Icy (B/R) – LIMITED EDITION
Blush More or Less
This mousse cream blush glides on and blends effortlessly providing an ultra-light, powdery finish. Vibrant and buildable colors highlight cheeks that glisten in soft peach and pink.
Shades:
* NEW Santa Fe Sun (Y/O)
* Sonoma Rose (B/R)
Eye Definer Brush
The NEW Eye Definer Brush gives you complete control over your eyeliner look. The firm, rounded head with tapered edges allows absolute customizability and can be used with your favorite Perfect Every Line Gel Eyeliner or Colorscope Eye Color.
Availability: Beginning November 2008 at Prescriptives counters nationwide, exclusively at Holt Renfrew in Canada and prescriptives.com