I've already covered Mad Men worthy red lipsticks and liquid liners but I noticed in checking my Google referral traffic that many gals were as taken with the specific shade Betty wore in last Sunday's episode, "The Inheritance," as I was. You know, when she went to visit her father? It was the Platonic ideal of red lipsticks for blondes. Her lips looked like a HEART. In a good way.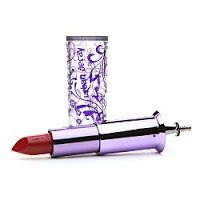 Lo and behold, I received a lipstick today that is EXACTLY the right shade. It's bright enough, creamy enough, matte enough, and more importantly, spectacularly RED enough. The right red. What is this magical shade? Urban Decay Lipstick in Revolution ($22). It's a true red that tastes of caramel and even nourishes with vitamins. LOVE.
Now if only it came with a side of dishy Don Draper.