"Fragrance will herald your arrival and prolong your departure." –Coco Chanel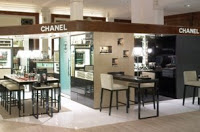 Last Wednesday, I, along with eight other beauty bloggers were invited to an exclusive CHANEL event. First, we headed over to the newly renovated Fragrance and Beauté counter at Saks Fifth Avenue in New York City. At 850 square feet, this retail space is designed to offer customers an exclusive environment to experience all that CHANEL has to offer. The fragrance area invites customers into the world of CHANEL fragrance heritage with the debut of the patented Olfactive Bar designed by CHANEL deputy perfumer Christopher Sheldrake. Utilizing a new patented ceramic blotter system, the table houses the 43 fragrance concentrates encompassing the entire range of CHANEL perfumery. An on-site fragrance expert offers clients an interactive olfactive journey through the house's extensive fragrance offerings. An illuminated manuscript, the pages of which turn via a motion detecting sensor, showcase the history of CHANEL fragrance, from historical images of Coco Chanel to the house's master perfumers. This location will debut the Les Exclusifs de Chanel fragrance collection, including a global exclusive for BEIGE ($190), an absolutely gorgeous fragrance we had an opportunity to sample while in-store.
"I take refuge in beige because it's natural," said Coco Chanel. She adored all shades of the color, which evokes natural elegance and grace. To her, it was an elusive color which at first seems ordinary, but later reveals its own discreet sensuality. Master perfumer Jacques Polge combined hawthorn, freesia and frangipani, with shimmering hints of honey.
Trust me, as someone who'd only wear one out of every 50 or so scents I sample… this one's to die. (Don't believe me? Do a search for "perfume" on this blog and notice that in nearly three years of blogging, I've only covered between five and ten fragrances.) BEIGE will be available in October 2008 exclusively at Saks Fifth Avenue in New York City.
After touring Saks' luxurious CHANEL counter, our group was lucky enough to head over to CHANEL's showroom at their corporate offices where we learned all about the brand's latest innovations in skincare and makeup. Stay tuned for details on CHANEL's Holiday 2008 Makeup Collection and my newest skincare obsession, Sublimage. We also partook in manicures given to us by Jin Soon's skilled staff. Details to come later this week!