Morning, gals!
Four things.
*I just read the new DailyCandy book The DailyCandy Lexicon: Words that Don't Exist but Should and I ADORED it. I've long enjoyed their "lexicon" series on the DailyCandy site, and this book contains some of my former faves and some hilar new ones.
For example:
GPX
n. A tracking system devised to monitor your ex's every move (Nancy uses MySpace as GPX.)
Nontourage
n. A group of undesirable sycophants. (The party was fun until Justin showed up with his nontourage.)
Do you LOVE it? Also, I hit up DailyCandy's White Hot Media party on Tuesday, which was super-fun. It's been a DailyCandy kind of week!
*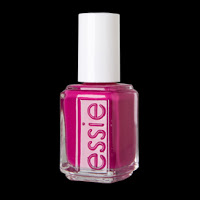 In other news, my berry nails I sported to my friend Chopin's lake house were super popular. My shade? Big Spender ($8), from Essie's Fall 2008 Collection. It's a medium violety red. It reminds me of one of my old discontinued Essie faves, Tribeca. My mani is still holding up extremely well, a full week deep. Okay?
*BTW, Chopin, Stephanie, Tiffany and I had a blast on Chopin's boat where we employed the Stephanie-coined word "boatiquette," which is obv, etiquette on a boat. You know. As in, you always have to wave to other boaters when you pass, etc.? It's one of my new fave words.
*Also, apropos of nothing, I have to report the most phenom dating screen name ever: MrDarcy. My roommate told me about this dude, with whom she's going on a date this week, and I have to applaud his clever choice. Is there any better male archetype than Jane Austen's famed protagonist? (There isn't.)
Happy Thursday!