Amber has dubbed me the Kardashian Korrespondent and I know how much you Rouge18 readers love the Kardash klan, so let's dive right into my koverage: their new hair products.    
Photo Cred: Huffington Post
The clear stars, aside from the girls themselves, are the dry shampoo, the hairspray and the blow dry cream. 
Dry Shampoo ($13.99): We all know I don't wash my hair, so dry shamp is my savior and I only use the best. Which also means I've tested lots of not-so-good ones and when a dry shampoo is bad the most terrible thing happens: you have to wash your hair. The horror! Exactly what you were trying to avoid. That's not Kardashian, that's Kafkaesque. Their dry shampoo absorbs oil, doesn't leave behind any white residue, gives your hair a lift and basically brings life to your strands. My favorite part is how quickly it works into your hair — you're not left with the feeling that you've used more product.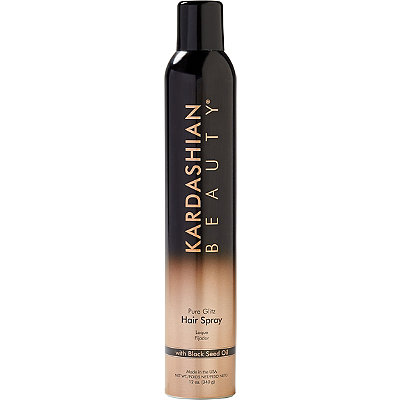 Hairspray ($14.99): This krew is never short of va-va-va-voom hair and their spray gives your look a boost while still being super lightweight. I only ever use hairspray for volume, never to set a look, and this one speaks to my needs. If my hair feels flat, the last I'll do before I leave my apartment is flip my hair over and spray the bottom for some bounce.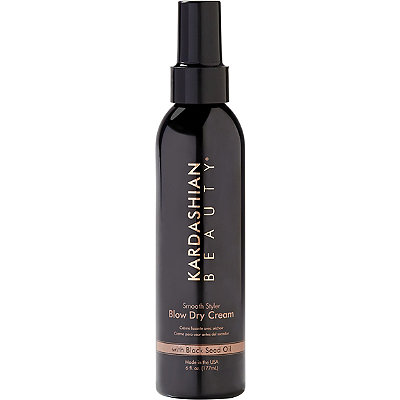 Blow dry Cream ($12.99): Starting halfway down my hair, I use two pumps of this extra light cream (it basically has a gel consistency) and once I've run my fingers through the ends of my hair, I'll add a little more to the top and even lightly apply some to my roots. I'm the queen of falling asleep after I apply blow dry cream and not actually, you know, blow drying my hair like its intended use, so I test its efficacy on how easy it is to do my hair the next day. This stuff keeps my hair smooth and soft, plus it tames my curls, making my mornings much easier. 
My only qualm about the whole line: the scent. I had some trouble decoding it. Is it the black seed I don't like or the rose? Do I actually even dislike it? Maybe I like it? With each new use I like it more. Then again I wasn't always a big Karadahian fan and now I love them; I have a feeling the scent will grow on me, too.  
Would you try this line?
—Julia Casella (Rouge18 Kardashian Korrespondent)