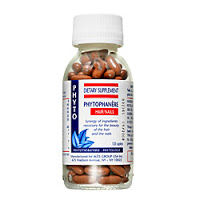 I'll do anything for longer hair. Anything. It won't grow. Enter Phyto Phytophanere Dietary Supplement – Hair & Nails ($50). Unlike my experience with Appearex, there is no unsexy side effect of "The Big C." You know what I mean. Don't make me say it. I've been taking it quasi-religiously – the recommended two a day, but only about 80% of the time for the past month. I spend an inordinate amount of time checking out my back in mirrors because my hair has DEFINITELY extended about an inch and a half (for me, that's HUGE) down my back. It's nearly at bra-strap level. I'm so much closer to Blake Lively hair length status, that I could SQUEAL. I was so enthused about this that I spent even MORE time than usual in front of the three-way mirror my parents have in their 80s-style wetbar (my house was built in '85 – mirrored wetbars were ALL the rage) at their house in suburban Philly. Side story about the wetbar: when I was last there over July 4th weekend, my mom got this ENORM wrought-iron wine rack shaped like a fish that's actually very cute – but she placed it ON TOP OF THE WETBAR IN FRONT OF THAT MIRROR (also, in front of some family pics of me and my brother.) We got in a big fight about the placement of the fish wine rack (my brother and I were of the opinion that there were at least 45 better places for it that a) would not be obstructing photos and b) would not be obstructing THAT MIRROR). We really had to bust out the heavy litigation skills, but in the end, my mom agreed that the wetbar wasn't the best location for it and put it elsewhere. PHEW.
Anyway. The Phyto supplements work beautifully, but with one semi-uncool side effect: your nails and leg hair will also grow like weeds. I got a mani (with Essie's Bermuda Shorts, a high-voltage violet I'm LURVING) on Friday and was seeing a big gaping space of unpolished nail growing through by SUNDAY. Previously unheard of. Regarding leg hair, I am blonde and as such, I need to shave every other day. Since taking the supplements, I've noticed that it's really unacceptable for me not to shave every day.
I'm okay with that since trying out PHENOM new shaving cream brand, eos. eos stands for Evolution of Smooth and I can attest that this is truly the most evolved shaving emollient I've tried to-date. AND you can get it for $4.99. You can use it wet or dry (I've tried both ways and was much impressed with the dry application) and it yields a VERY close shave and moisturized gams. The Pomegranate Raspberry-scented version is DIVINE. It smells like a sophisticated Strawberry Shortcake doll. Remember how those smelled? Bonus: this cream is not tested on animals and comes in a smooth, gummy-textured bottle (like NARS' products packaging – you know?) that's recyclable and won't leave a vomitatious ring on your tub. Love, love, love.