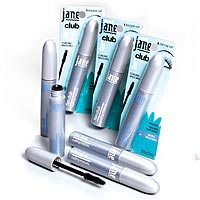 Apparently, there is a phenomenon sweeping beauty blogs regarding the "holy grail" mascara. I take mascara VERY seriously. As in, it is my "desert island" product. My 3 faves range from high-end to medium to cheaper than dirt.
1. Clinique Lash Doubling Mascara: I like this one the best. It provides volume and length. It mystically allows you to make your lashes as long as you'd like with multiple applications. Simply amazing and it's only $13.50.
2. Guerlain Divinora Supercils Mascara: I would never pay for an expensive mascara when Jane exists (see below) but my friend in beauty PR bestowed this indulgent gift upon me and I ADORE it. It clearly defines lashes and never gets gunky and clumpy. The brush is a bit flimsy, but it serves its purpose. It's $25.00 but worth it.
3. Jane Fanclub Waterproof: I can't seem to find Jane anywhere anymore, but it is my favorite cheap drugstore brand. This mascara costs about $3.00 but looks like a million bucks on. It gives your lashes a kicky curl as well.
One more thing: I do NOT get the obsession with Maybelline Great Lash AT ALL. It looks positively vomitatious on me. I don't understand how it catapulted to fame.