Francesca Tolot for Dior Beauty did the makeup honors for the stunning Charlize Theron, who pretty much brought all the sexy to the red carpet in her rouge gown and left little for anyone else. I pity the fool who tried to out-hot Charlize last night. Here, the beauty breakdown, courtesy of Francesca.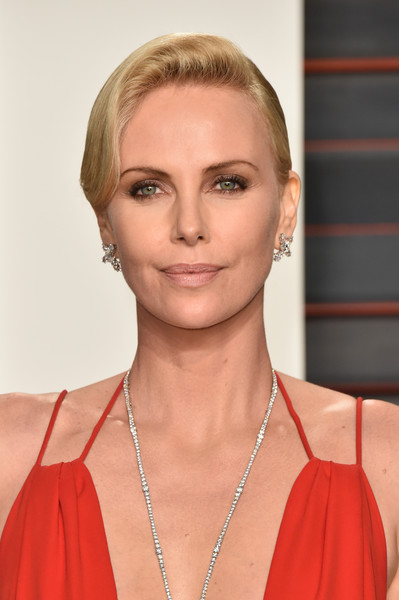 "I began by applying Capture Totale Crème. The texture is light enough to create the perfect base for any foundation. I followed the cream with Diorskin Star foundation all over the face and neck to create a flawless finish. I applied Diorskin Star concealer under the eyes to brighten the area. I finished the base of the face with a light dusting of Dioriskin Forever Control Loose Powder. I created dimension with Diorblush Sculpt and then warmed the cheeks with Diorblush in Lucky Pink.
For the eyes, I began by applying a dark brown eyeliner and blending that up to the brow bone. I then began working with the Dior 5 Couleurs in Cuir Cannage. First, I took the darker shade and applied it over the pencil to intensify the lash line, then blended it with the copper tone from the same palette. For the crease of the eye I applied the reddish tone eyeshadow to compliment the blue of her eyes.To blend all of these copper tones I applied a Diorshow Mono over the whole lid creating a softer smokey effect. I love mascara, especially Diorshow because it makes your eyelashes truly pop! I applied this to complete the eye on the top and bottom lashes. I groomed the eyebrows with the new 3D brow palette to frame her gorgeous eyes.
Finally for the lips, I decided to keep them translucent to not compete with the color of the gown, so I used a very light application of Milky Tint "
DIOR PRODUCTS USED
COMPLEXION:
NEW Dior Capture Totale Multi-Perfection Crème – Light Texture (Launched January 2016)
NEW Diorskin Forever & Ever Wear Primer (Jan 2016)
NEW Diorskin Forever Foundation #030 Medium Beige (Jan 2016)
NEW Diorskin Forever & Ever Control Loose Powder (Jan 2016)
Diorskin Star Concealer #001 Ivory
NEW Diorblush Sculpt Professional Contouring Powder Blush #003 Beige Contour (Jan 2016)
Diorblush #846 Lucky Pink
EYES:
Dior 5 Couleurs Eyeshadow Palette #795 Cuir Cannage
NEW Diorshow Mono Eyeshadow #573 Mineral (Launching April 2016)
Diorshow Pro Liner #581 Pro Brown
Diorshow Mascara #090 Pro Black
NEW Diorshow All-In-Brow 3D Palette #001 Blonde (Launching April 2016)
LIPS:
NEW Dior Addict Milky Tint Lip Fluid #286 Milky Plum (Launching May 2016)