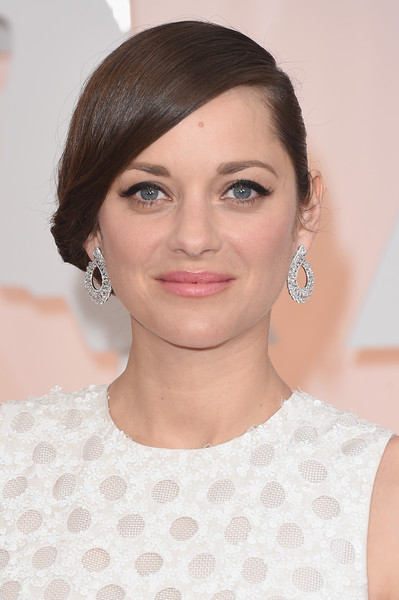 Christophe Danchaud was inspired to do something pure by Marion Cotillard's beautifully white gown, so they opted for a modern take on old Hollywood. Here, the beauty breakdown, courtesy of Christophe.
"In order to cleanse and enhance her skin tone I began the look by prepping the skin with Baszicare's Hydrating Floral Toner. With the skin refreshed I made the skin particularly smooth for makeup application I messaged the Lucem Smoothing Cream Intensive, which I LOVE! i finished off skincare prep with the Astra eye contour cream to keep her eye area bright and defined.
To begin makeup application, I combined two shades of Ilia's Sheer Vivid Tinted Moisturizer, Belle Mare T2 and Hanelei T3. The formula is particularly nice because it is a sheer tinted moisturizers and a source of SPF20. I then mixed a bit of Baszicare's smoothing cream with Ilia's Vivid Concealer in Maca C2 for added smoothness and clean coverage.
When it came to Marion's wonderful check bones I used Ilia's multi-sticks in Tenderly and Cheek-to-Cheek.
In keeping with our inspiration I decided to keep a soft depth to the eye by keeping it simple with liner and Ilia's Pure Mascara in Nightfall. I highlighted the lid with Ilia's Polka Dots and Moon Beams illuminator which truly kept the eyes bright and interesting.
Her lip was lightly touched with Ilia's Blossom Lady tinted lip conditioner which added just enough color and shine."
What do you think of Marion Cotillard's look last night?