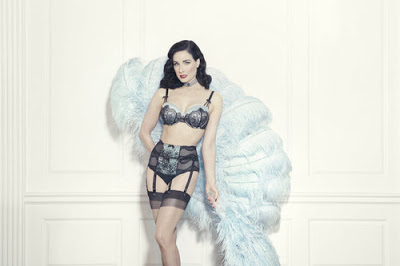 Last week, I had the incredible opportunity to interview burlesque beauty Dita Von Teese, a starlet so legendary, I was totally nerve Griffin to interview her. She's partnered with HSN to bring her collection of vintage-inspired lingerie and unique configurations of both her fragrances to the HSN customer. Read on for a run-down of the Dita Von Teese offerings for HSN, a Fictitious Fragrance Fan pairing for the Dita Von Teese scent and a Q&A.

Dita's largest mass retail partnership is inspired by her long-time love of lingerie and her own personal collection of vintage underpinnings, the new collection features distinct touches–grosgrain and velvet ribbons, delicate eyelash lace, and control mesh for a fabulous fifties feel. The lingerie ranges from $25-$45.
Beautywise, there are two fragrances,  Dita Von Teese and Rouge ($30-75),  a shower gel and lotion available in both scents for $20 each and an exclusive 2-piece set of the EDP Fragrance & Lotion for $55.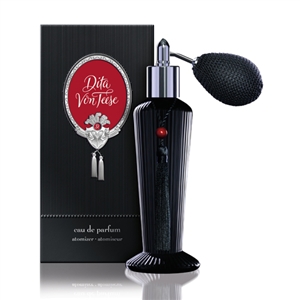 Dita

Von Teese

, the scent, is about sensuality, mystery, glamour, elegance and confidence. The fragrance opens with fresh bergamot, peony and Bourbon pepper. The heart of Bulgarian rose, Tahitian tiare flower and jasmine is placed on a warm base of incense, patchouli, musk, guaiac wood and sandalwood. The black glass bottle design is inspired by vintage style of 1930s.
The second scent, 
Rouge,
is the elixir of seduction, sexy and elegant as
Dita
herself. The perfume contains accords of orange, bergamot, pink pepper, smoked Lapsang Souchong tea, magnolia, woody tones and raw amber, among others. The bottle's design is reminiscent of a ruby and boasts a '20s/'30s era feel.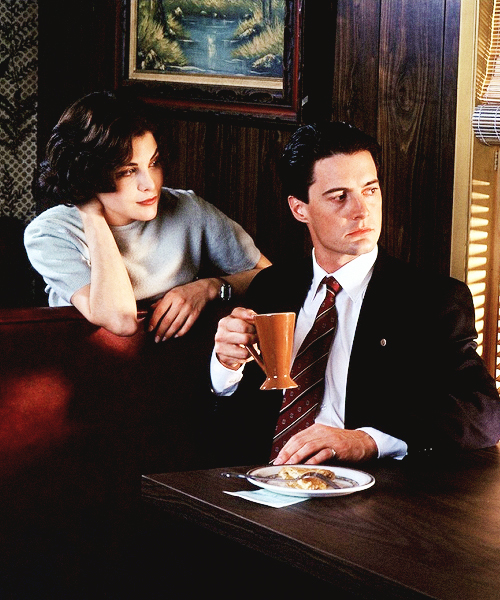 Dita Von Teese is actually a natural blonde and has said that she was originally inspired by Sherilyn Fenn's shoot for Playboy in December of 1990. I had a hunch that Dita Von Teese (the scent) would be a fragrance that would suit Twin Peaks' Audrey Horne, played by Sherilyn Fenn, and after testing it out for a few days, I'm positive that she would be this scent's Fictitious Fragrance Fan.
At 18 years old, Audrey Horne harbors a massive crush on spicy Agent Dale Cooper, pie-lover and coffee enthusiast extraordinaire. A classic beauty, it's impossible to pin her to a contemporary time period (she dressed more like a high school student in the '50s than one in the '90s), something she and Ms. Von Teese have in common. She boasts a flagrant disregard for anything that's not utterly grown up and sophisticated.  The sultry perfume, encased in its classic black ridged bottle with atomizer would punctuate perfectly her vanity, just as well as her beauty mark punctuated her beautifully robust brows. It always reminded me of a kind of exclamation point personified. Obviously, she purchased the fragrance (with a discount) from her father's department store, Horne's, from Laura Palmer, who worked at the perfume counter.
I talked to Von Teese a bit about her partnership with HSN and her fragrance and lingerie offerings below.
Beauty Blogging Junkie: Tell me about the fragrance you're wearing. 
Dita Von Teese: When I created the first one in the black bottle, I thought it was something Marlena Dietrich would wear, but not a grandmotherly fragrance. It would be something she'd wear if she were alive today. It's really sophisticated and elegant and glamorous. I was focused on creating a fragrance that has nothing to do with childhood or being a little girl. This is a grown-up perfume.
BBJ: Your skin looks sci-fi levels of amazing. What are some of your skin care essentials?
DVT: Sunscreen is essential. I'm loving sunscreen with a makeup base, now called BB Creams. I've been using one for a long time; a tinted UV base. I like this one called Snow by Dior. It provides a light tint.
BBJ: Is there a pop culture moment (of any era) specifically that inspires you most? 
DVT: I'm inspired by the past more than the present. I'm inspried to bring elements of modernity to older things. Making beautiful lingerie is important to me, but making use of the technology we have today for fit and function is key. I don't want to make replicas of what's been done in the past. It should have the spirt of nostalgia but be new and flattering.
BBJ: I know you're a fan of red lipsticks. Makeup artist Gregory Arlt, who works with you a lot told me you wear MAC Lipglass in Venetian to yoga. What are some of your go-to red lipsticks?
DVT: I did create my own line of red lipsticks with European makeup brand Art Deco. Some of my other favorites are MAC Ruby Woo, a great matte. Diorific Lipstick in Rouge Bingo, Roulette Red and Dolce Vita red are some of my others.
BBJ: Lingerie is of the utmost importance to you. What were some of your requirements for this collection?
DVT: I spent a lot of time seeking out really nice laces and fabrics that were really beautiful because I wanted to make lingerie I really wanted to wear and I'm a lingerie snob.  I love little touches that you only find in expensive lingerie, so it took a lot more effort to get there with the trims and the lace and the choices available at a certain price point, but I really enjoyed the challenge of trying to hit the mark, but knowing that it stands up to my most expensive lingerie. 
Check out Dita Von Teese's HSN offerings here, available April 23. Will you be purchasing Dita Von Teese's line for HSN? 

Like this post? Don't miss another one! Subscribe via my RSS feed.