Add my own skin to the list of things I will never understand which includes men, the whole explanation about how our eyes flip images (but things we touch are not on the ceiling) and all my outstanding LOST questions. which remain a mystery. 

Because my usually oily, clog-prone skin is now Sahara-dry and my go-to oils are metaphorically laughing in my face while my epidermis totally flakes. This leaves me wondering WHOSE FACE THIS IS, as if I snipped someone else's off in my sleep and just started wearing it on top of mine, Hannibal Lecter-style. What the what?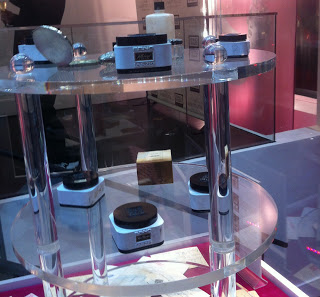 Marilyn Monroe's personal collection of Erno Laszlo
products on display at EL's The Institute opening last week. 


In wintry climes when the mercury dips below 25, you need to break out the big guns, and for me, this season's winner is the iconic Erno Laszlo Phormula 3-9 Repair Cream. Erno Laszlo is just one of my can't quit you brands. It's phantastic. Ingredients include cultured Raspberry cells for their superior anti-oxidizing properties, sustainable and wild-harvested African Marula Oil for its rich hydrating benefits and Indonesian Nyamplung Oil for its therapeutic action against DNA damage due to sunlight exposure. Be warned, it costs the earth at $265 but a little goes a very long way. Also, most super-rich creams I cosign for this kind of weather that deeply hydrate and deflake are upwards of $200, alas. The good news is that you'll only need it from December through early March if you have oily skin, so this bad boy will last you up to two years. Don't forget to extend it down to your neck and dec to avoid leathery cleavage in the coming years. No one wants that. 


I've been following it up with Erno Laszlo Repair Balm as an eye cream and everywhere my skin is especially dry, like around my nose and select patches of my cheeks. It hydrates in a way I've never experienced with your garden-variety eye cream (maybe that's because it's not one) and I feel as if my concealer positively glides right on top with zero cakiness. Always the goal, right? It also doesn't irritate the delicate area, despite not being expressly designed for that. Right now it's free if you purchase any of the other Phormula products and use code FREEBALM at checkout. 


Marilyn's rollers and lashes. So fun! 

It puts the lotion on its skin! That's how you ward off flakiness. And tell me: What are you using on your mug this winter? 

Like this post? Don't miss another one! Subscribe via my RSS feed.